Relief not far for stressed students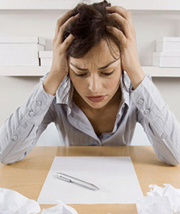 Balancing a college workload and keeping an exercise regimen can sometimes be a daunting task.
OCCC's Health and Wellness Center is currently taking enrollment for Fall Fitness programs that, according to a recent college press release, are geared to help students stay healthy while maintaining a focus on their studies.
Mental health website www.psychcentral.com cites exercise as one of 10 ways to relieve stress, stating: "[excercise] releases good hormones that keep [your] stress hormones at bay."
OCCC student Fatemah Bennett said staying fit is often a welcome escape from her schoolwork as well as a way of helping her to feel productive.
"I'm the kind of person [who] likes to stay busy and not feel like a loser by not having anything to do."
Enrollment is currently open for programs such as intramural Flag Football and classes that include Zumba and "Learn to Swim."
These classes not only use sports but "combine wellness activities such as group fitness, indoor/outdoor group games and swim time" according to the press release.
College students aren't the only ones who can benefit from the college's fitness programs.
For students with children who are looking to stay active during the school year, OCCC has a number of youth-oriented programs scheduled around the Oklahoma City Public School system.
The OCCC Health and Fitness press release for the fall programs shows youth classes would include "Extreme Sports" and "Fitness Fun" over the fall break and "The Amazing Race" and "Reindeer Games" over the winter break.
For a list of class times, costs and enrollment options, call Recreation and Fitness at 405-682-7860.
To contact Sean M. Tolbert, email sportswriter@occc.edu.