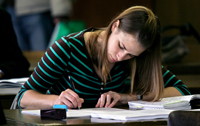 It's not all fun and games, but creative elements have been blended into the redesigned mathematics curriculum in hopes of prompting more students to pass their classes, said Tamara Carter, Mathematics Department director.
The math department made the decision to reorganize its pre-college level courses to improve student performance by changing the learning atmosphere, Carter said.
She said the redesigned courses debuted this summer and are now being offered for the fall semester.
Dale Duke, mathematics professor and College Prep Math class coordinator, said occasionally during group work, students will participate in interactive games to help them review for upcoming tests.
Games such as Bingo, Jeopardy, and Who Wants to be a Millionaire have been redesigned to contain questions over the material learned in class.
"My favorite part of the prep math class is the review games," said Christian-Monet Hyatt, CPM 3 student and psychology major/
"They let me know if I'm ready for the test or if I need to study more," Hyatt said. "Since we do it in groups, it makes me feel more confident in the answers we choose."
The new math courses consist of four different non-traditional sections, each comprised of different approaches to learning, Carter said. The classes are labeled College Prep Math 1, 2, 3 and 4.
Students are placed into a section based upon placement test scores. The placement test was developed specifically for OCCC, which gives a more accurate idea of where the students need to be placed, said Marsha Austin, mathematics professor and CPM class coordinator.
The new approach to learning consists of different segments within the class period, during which students move from one place to another.
Usually a cluster of four different classes meet at the same time and rotate, allowing more than one professor to assist students, Austin said.
"I like the changing of classes," said Sarah Hanson, CPM 3 student and diagnostic medical sonography major. "It keeps the class moving and prevents people from getting bored.
"I find myself keeping my focus better, rather than sitting through one long class the whole time."
Unlike most lectures that last for the majority of the class, lectures under the new arrangement are much shorter, Carter said. These mini-lectures allow the professor to present material, work problems, and help the students build connections between concepts.
Group work is also a part of the new course agenda, she said. During class, students get to work with their peers on math activities that pertain to the lectures.
Some activities are hands-on and show how math is used in everyday situations. For example, the CPM 3 class did a percentage exercise over the wins and losses of the OKC Thunder basketball team, said Linda Knox, mathematics professor and CPM class coordinator.
While working in groups, individuals are able to grasp material by receiving help from other students or by being the one who helps explain, Carter said.
Another aspect of the redesigned curriculum is class time computer work, she said. Class time work gives students a chance to begin on homework assignments and check to see if they comprehend the problems correctly.
She said the change came partly as a result of low passing rates in pre-college level math classes, as well as departmental concerns.
Since some students need better study habits, study skills are presented to the students in order to maximize what they accomplish, Carter said.
The mathematics department hopes this new curriculum will bring promising results for students who have struggled with math and give them the knowledge they need to move on, she said.
For more information, contact the OCCC Mathematics Department at 405-682-7508.