Red River rivalry really ridiculous
The Oklahoma Sooners football team lost to the University of Texas on Oct. 10, with a score of 24 to 17 and I'm sure everybody, including me, is very confused.
I watched the great Red River rivalry in the comfort of my home, away from the chaos happening in Texas.
Well, I shouldn't say that because I was causing chaos in my own residence as I loudly screamed at my television for the poorest job of the University of Oklahoma's offensive line that I have ever seen.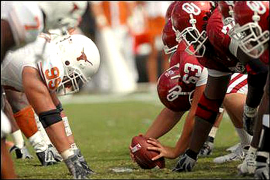 I say that because they were giving up a sack every other play, which made it to where our air raid offense couldn't do anything.
If the Sooner quarterback, Baker Mayfield, wasn't getting sacked, he was actually doing one heck of a job.
But playing good every four plays isn't going to cut it in a game like this — where thousands of fans gather each and every year to watch the Oklahoma Sooners and the Texas Longhorns duel it out, while also enjoying the great Texas state fair just outside the venue.
The first part of the game was just tragic. The Sooner defense was just out of their game the first half, giving up 14 points — which really isn't very much, but considering how Texas has been playing this year, having a record of one win and four losses, was just too much to let go by the Sooners.
The offense wasn't showing up either in the first half, only scoring three points.
The second half, the Sooners seemed to get it together but just couldn't finish off the Longhorns. The defense was decent in the fourth quarter, and the offense seemed to make a comeback for what was, at the time, an undefeated Oklahoma team.
The game was just sad for all Oklahoma fans.
Now, all the fans want is just one more chance to beat the Longhorns.
But that isn't going to happen so the Sooners will just have to wait until next year to get another shot at head coach Charlie Brown's Texas Longhorns.