Radarscope the ultimate weather app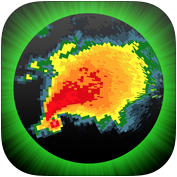 Most of us have a weather app we swear by. Some stick with the standard weather app on their phones, some like the Weather Channel, some get really minimalist, and there are some who aren't satisfied with any of those.
Give me a moment to talk to you about Radarscope.
Radarscope is not for the faint of heart — and it's not free. It's $4.99 on the app store, and it's the best.
It features live, clear, high-definition resolution radar data from the national weather service's NEXRAD network of doppler radars.
This isn't your Facebook friend's weather app. This app features data straight from the National Oceanic and Atmospheric Administration, or NOAA.
You're able to view flash flood, tornado and severe thunderstorm warnings in real time, and preview incoming weather in real time anywhere in the U.S., updated every three to 10 minutes.
Something people probably don't realize is that NOAA is the government's weather service. NOAA provides the most accurate weather information in the world (rivaled only by maybe the Chinese). No other weather app is this accurate or official. None.
There is no weather app better than this one. There is so much data, updating, and care going into this app that nothing else even comes close.
Everyone at the National Weather Center in Norman uses this app.
While this sounds daunting, the app is not just for hardcore weather enthusiasts and meteorologists.
It's extremely easy to use for amateurs, or if you just want a clear picture of where the incoming severe weather is relative to your position.
Regardless of how you decide to use this app, you can rest easy knowing you are using the best possible.
Feel free to brag to your friends. Feel free to shoot down their puny, low-resolution weather apps.
They don't have radarscope.