"Winds of Faith" to perform here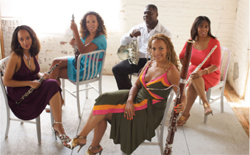 Picture Courtesy of Imani Winds
Grammy-nominated chamber music ensemble, Imani Winds will perform on campus Oct. 4.
OCCC's Bruce Owen Theater will play host to Imani Winds, a wind quintet, as part of the college's Cultural Arts Series. The group's performance is at 7 p.m. Tuesday, Oct. 4.
This will be the first time Imani Winds has performed at OCCC, said Lemuel Bardeguez, Cultural Program director.
Bardequez said Imani Winds is one of the most successful chamber music ensembles in the U.S. He said they and are considered by many classical music authorities to be the nation's premier wind ensemble.
"They are a Grammy-nominated group, and their extensive touring schedule has brought them to most of this country's major and most prestigious concert halls,
"Including Carnegie Hall, Lincoln Center and Kennedy Center," Bardeguez said.
Scott Tigert, Cultural Programs assistant, said Imani Winds should not be missed.
"They are advancing classical music, and that is a great thing in this day and age," he said.
Bardeguez said the group was founded in 1997 and is known for its adventurous programming, which includes newly composed works as well as compositions featuring African, Latin American and American influences.
"The group's members are of African American and Latin American ancestry, and the name Imani means 'faith' in the Swahili language," he said.
Imani Winds will perform both traditional wind quintet pieces and contemporary compositions specifically written for the quintet, Bardeguez said.
Tickets for this event are now on sale from 8 a.m. to 5 p.m. at the Cultural Programs office, located in room 1G1 in the Main Building. Ticket availability is on a first-come first-served basis.
Tickets are $10 for students and children, $22 for adults, and $17 for seniors over 55, OCCC faculty, staff and Alumni Association members.
For more information about Imani Winds, visit www.imaniwinds.com.
For more information on this event, ticket availability and other Cultural Arts Series events, visit the CAS website at www.occc.edu/cas, or call their office at 405-682-7576.
To contact Christy Johnson,
email staffwriter2@occc.edu