Public relations class welcomes a golden guest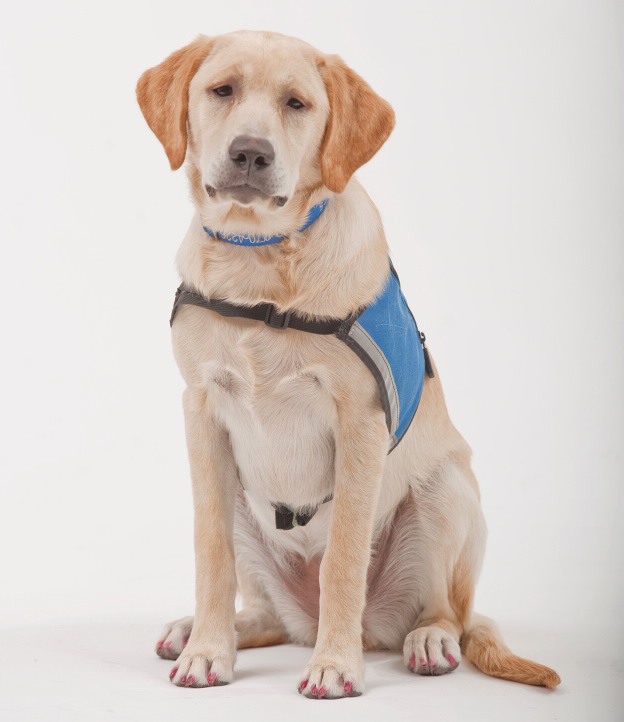 Jenny the golden Labrador Retriever recently visited a class of public relations students at OCCC. Jenny is a service dog with Therapetics Service Dogs of Oklahoma, the only certified service dog-training agency in the state.
Jenny entered the room groomed to perfection, with painted nails and a beautiful golden fur coat.
Her traveling companion, Susan Hartman, was clad in a sky blue dress shirt, gray pants and black shoes. Hartman is the executive director of Therapetics Service Dogs of Oklahoma, the only certified service dog-training agency in the state.
Jenny is a golden Labrador Retriever who sat down next to Hartman and quietly surveyed her environment while Hartman spoke.
Hartman and Jenny were guests in Professor Gwin Faulconer-Lippert's Public Relations class recently.
Hartman explained that her organization is responsible for scouting for pups, training them and certifying them as service dogs. Therapetics Service Dogs of Oklahoma is a statewide organization based in Tulsa that has been in operation since 1992.
She said there are different types of service dogs.
For example, there are medical dogs that respond to an individual having a seizure or an individual who is in distress due to a diabetic condition.
She also mentioned hearing dogs that are capable of guiding individuals who are either completely deaf or hard of hearing.
Hartman also explained that there are service dogs that react to psychiatric distress, such as an individual who has a mental condition, including post-traumatic stress disorder. She explained that these psychiatric alert dogs are capable of walking into a dark room and putting the lights on, waking someone up who is experiencing a nightmare or even running to get help.
Perhaps best known, Hartman said, are the mobility assistance dogs that help individuals get around, such as crossing the road.
It all begins with choosing the right dogs. The process of puppy selection is rigorous, Hartman said, and she only accepts puppies from select kennels for training. She also said she takes in puppies when they are two months old and the training starts immediately.
These dogs are in the training program for two years and are evaluated every six months. Training begins with basic obedience.
"The dogs are trained not to be aggressive or protective, but to become a friend," she said.
Hartman mentioned that some of her clients have benefitted from this aspect of the program because their service dogs have helped them to connect better with humans.
Her clients have said: "My dog opens the door for me both physically and figuratively."
There are unique models in service-dog training. She said that the dogs live with volunteers for two years while in training. This reduces the cost of training considerably. On average, she said, they can spend about $25,000 to $40,000 just to train and keep the dog in the facility.
"The volunteer keeps this figure way below that," Hartman said. The volunteer and the trainers meet at least twice a week to check on the progress of the dogs in training.
When it becomes apparent that a dog will not be able to perform the service it is being trained for, Hartman said, it is not termed a failure but a "career-change dog."
For example, some dogs can be trained to be mobility dogs but if it happens that they are afraid of vehicles in the streets or just being out in the open, they may do very well in sensing psychiatric distress on the part of the client.
To qualify for a service dog, a client must demonstrate how the dog will impact his or her life in a positive manner. Every year, 10 dogs are ready for placement. She also said that on average 25 applications are made.
She said that most important consideration for anyone looking for a service dog is the ability to afford that dog.
"These dogs need food, shelter, medical care and grooming," Hartman said. "You also need to show the ability to be the leader in this team of the dog and you. If you do not want the dog engage in certain behavior, then you have to reinforce this from the onset."
Hartman kept dog-loving students at a distance, explaining that service dogs are not meant to be petted as this distracts them. But she let Jenny do some tricks to the delight of students and teacher alike.
Jenny can open and close a door using her nose and paws. She can also turn the lights on and off in a room. She is also capable of picking up keys and handing them to someone if they drop them.
Jenny can also do the laundry, by loading and unloading clothes from a side-load washer and dryer.
For more information about the Therapetics Organization you can contact Susan Hartman by phone at 918-270-4226 or by email at shartman@therapetics.org.
To contact Sarah Mukiri, email onlineeditor@occc.edu.