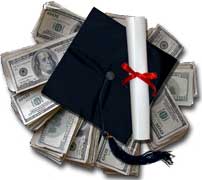 From scholarships, loans and Pell grants, students across the state have options to turn to for financial relief and now, one more may be added to that list.
State Sen. John Sparks has proposed legislation that would make all full-time higher education students exempt from state income taxes.
Numerous attempts to reach Sparks by phone and e-mail went unanswered but in a recent press release, he acknowledges the hardships students may face while attanding college and also being in the work force.
"We need to do all we can for students who are struggling to make ends meet," Sparks said.
According to a press release, SB 1091 would exempt any full-time Oklahoma college student from paying state income tax, regardless of age.
OCCC meteorology major Kyle Tanner would be one of the many to possibly benefit from Sparks' bill.
Tanner said he a full-time student who also works 20 hours a week. He thinks the tax exemption would help him out.
"With the way the college fees are racking up, I believe this bill is a great thing for students," he said.
Tanner acknowledged the tax exemption would only save him a few extra dollars each month, but said it all adds up.
"Every little bit counts when it comes to paying our bills," Tanner said. "Even if taxes are only $30 a month, over a year that money could be used towards textbooks or other fees."
Despite the savings the bill promises, students like Eryn Kammerzell focus on the bill's potential side effects, such as coinciding with the current state budget deficit.
"Being exempt from income taxes seems like a good idea right away," Kammerzell said. " … but in the long run, tuition and school fees might rise and students may end up paying more later on."
Sparks said he recognizes the economic crisis but maintains his bill is for the better.
"I'm aware that we are in a struggling economy, but I don't believe we should balance the state budget on the backs of students," Sparks said in the press release.
For more information or to contact Sparks' office, call 405-521-5553.