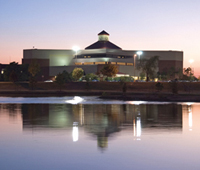 Returning to school after a long absence can be daunting and raise several questions — especially for those needing a degree to secure that lucrative promotion or get a better job. OCCC has stepped up to help through its Reach Higher degree-completion program.
Reach Higher is for adults who "have already earned some college credit and want to finish their degrees," according to the college's website.
The program offers flexiblity through a variety of classes for those who have busy lifestyles that prevent them from pursuing a degree in the traditional manner, the site states.
Jon Horinek, Recruitment and Admissions director, said, today, it's more important than ever to have a degree.
"These are the days when a college degree is the key to getting yourself promoted or becoming qualified to secure a new job," Horinek said.
"Many students can return to college with a number of varying or specialized credits — some from multiple institutions — and that may leave them unsure as to whether or not they are all viable in the pursuit of a degree.
He said that's where the Reach Higher program can help.
"We can look at their transcripts and see whether or not they would be able to take classes and qualify for a customized degree through the program or if they would qualify for a Liberal Studies degree," he said.
"In reality, many students are much closer to a college degree than they think."
Student Development Dean Liz Largent said the Recruitment and Admissions Department is emphasizing the Reach Higher program to prospective students with "Make it Mondays," a two-month program designed to meet the needs of working adults whose schedules may not allow them to visit the college during typical office hours.
Largent said there are no problems unique to a particular student age group and she encourages any one pursuing a degree to use Reach Higher to their advantage.
"All students at all ages can run into problems when entering or returning to school," she said.
"Incoming freshmen can be working 40-plus hours a week while attempting to get their degree and can also benefit from Reach Higher."
OCCC graduate Carol Jones, who earned a bachelor's degree in Organizational Leadership through Reach Higher, said the program made the difference in her pursuit of her degree.
"I'm 100 percent behind the program," she said.
"Had it not been for them I might have said that it wasn't worth it."
Jones is effusive in her praise of the program and advises others who may find themselves in a similar position to use it to their advantage.
"They realize that you may have more time constraints than the typical teenage college student," she said.
"It would have taken about two and a half years to get my degree [without Reach Higher]; I finished mine in a year and a half."
Make it Mondays will be from 8 a.m. to 8 p.m. every Monday through July 25.
For more information, call the Recruitment and Admissions Office at 405-682-7580, e-mail Horinek at jhorinek@occc.edu or e-mail Largent at llargent@occc.edu.