Program has students stepping up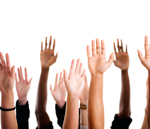 State School Superintendant Janet Barresi greeted about 250 people who gathered to learn more about a community volunteer program called SHINE.
Elected city officials, educational professionals, members of the Oklahoma City police department and community development leaders were among those in attendance when OCCC hosted SHINE in the Bruce Owen Theater March 22.
Oklahoma County Commissioner Brian Maughan introduced his program which encourages high school and college students to engage in community service.
He said he had the support of commissioners Ray Vaughn and Willa Johnson.
Oklahoma City is recognized as one of the top five cities in the nation for volunteerism, Maughan said.
"Over 30 percent of residents volunteer at least a portion of their time," he said.
"Studies have shown that by (students) volunteering, it will limit their exposure to gangs and other violent activities and hopefully eliminate or defeat our graffiti problem.
"In reports published in 2005, students involved in community service were less likely to fall victim to achievement gaps often seen in inner city schools."
Maughan said he developed SHINE, in part, thanks to the influence of George Chapman, his former high school principal at U.S. Grant. Chapman gave troubled students an option. They could stay for after school suspension or fail.
"(Chapman) put kids to work," Maughan said. "For awhile Grant had one of the best looking campuses in the city.
"Educators make one of the biggest impacts on our communities," Maughan added.
Jerry Steward, executive vice president, said OCCC has demonstrated its commitment to the community through various programs.
Steward also acknowledged Maughan as an OCCC graduate and one of his former students.
"[His] program is an excellent example of servant-ship," Steward said.
"It's a great program. We need to contribute to something greater than ourselves."
President Paul Sechrist said the college is happy to participate.
"We're always excited and interested to be a part of the community," Sechrist said.
"We hope that many students will get involved in this program."
Three students were recognized for completing 100 hours of community service, and received a certificate and a cord they can wear at their graduation ceremonies.
OCCC student Amanda Allen was recognized for her involvement with Children's hospital and for her work in various political campaigns.
"I've known Brian for awhile," Allen said. "When he told me about the program, I joined in."
Another recipient, Rachael Scott, was singled out as the first person to complete the requirements for the award.
The Santa Fe High School senior completed 131 hours of community service with the Spanish club, humane society and animal rescue groups.
Midwest City High School student Stacia Lancaster was recognized for her efforts with Special Olympics, food drives, holiday toy drives, and sending care packages to military personnel overseas.
Representatives of the Watchful Eyes Association, located in southwest Oklahoma City, said they came to learn more about the program initiatives.
They said they hope to encourage more volunteers with their association, which functions as a kind of neighborhood watch group.
Jessica Bullock, with Francis Tuttle Career Technology Center, said she came to learn more about SHINE.
For more information or to get involved, contact Maughan at 405-713-1502.