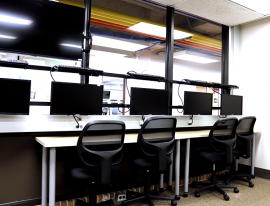 [1]At the beginning of this semester, some English Composition students found that not all OCCC classrooms are created equal.
Three classrooms in the Arts and Humanities area were converted into interactive classrooms over the summer.
At the time of the switch-over, Audio Visual Specialist Jim Goldsbury said the classrooms would house a "multi-touch projection system and a multiple input-output videodisplay." In other words, the three classrooms are filled with computers and an interactive 87-inch screen the professors refer to as a "genius board."
The board's functions are like a big tablet.
English Professor Mark Zindelo said these boards have brought about positive changes, including improving how students behave in class.
He said, with the computers mounted on the perimeter of the classroom, with every screen visible, students are less likely to use class time and the computers to do non-class-related activities. He said it helps him be in more control.
" … Used to be when students had their own computers in front of them, they would get online, go to Facebook," Zindelo said. "But it is different now, students don't try to get on the computers. They don't feel they need to check their Facebook."
With the genius boards, students also can learn lessons in new and fun ways, such as playing the Grammar Ninja game, Zindelo said.
He said students are happy with the changes as well.
"I know when the students came in the class this semester, [and] saw all the technology, their eyes were really wide and they were really surprised," Zindelo said.
"Students always want to play and work with the genius board."
He said because of the changes, he feels students and professors now interact and engage in discussion more.
English Professor Linda Robinett agrees. She said while she likes the interactive board, she really is excited about the monitors mounted around the room.
" … Four students can work in a group and they can be working on documents which are on the monitor," she said.
She said she likes the new way of teaching better than how things were done in the past.
"I like students to have computers because in the writing class, they can type the paper in front of me and I can watch it," she said.
" … Students can collaborate and I can see their work on the monitors."
English Professor Makenna Green also teaches in one of the updated classrooms.
Green said she believes technology in the classroom can help make students feel more comfortable about learning because it's similar to what they are doing outside classes.
" …Technology is constantly changing and we have students who are using Moodle on their smartphone, or on tablet or on iPad," she said.
"So, I want to mimic that same technology in the classroom so that what they are doing outside of class matches what we are doing in the class."
Green said often, her students end up teaching her things about the classroom technology.
" … They are really good at using genius boards and they are also really good at using the side monitors that match the genius boards," she said.
"They use technology even better than I do."
Green said the interactive board saves her a lot of time in class.
"I also like that the genius board is touch sensitive so I can scroll it, and I can do all that on the boards. I don't have to move over to the podium to do that."
However, a couple of the professors said there are still some slight issues in the classrooms.
Zindelo said they are too bright which causes students to have problems in viewing the board.
" … The board is like a projector … so if it has a lot of light, then they can't see it."
Also, the classroom was designed with movable tables so the room can be customized to each professor's needs.
Robinett said that can be bothersome at times.
"We do have to move the furniture a lot," she said. " … If we want to use the computers [we] have to move the tables [around the edge].
"Then, when you want the class look at [the board], we move them all back."
Not all professors have elected to use the updated classrooms.
Zindelo said some professors still prefer to teach in a more traditional way.
"It is about comfort," he said.
"It is their way and they feel the best that way. They feel the most confident that way.
"As for me, I think if the students change, I should change to do what students need," he said. "I like the old way but the new way is more fun and it is working out better."
Green said some professors don't like feeling much anxiety in class, so they do not want to change their way in teaching.
"Sometimes, you have to be prepared for situations like the power goes down, genius boards blacks out," she said.
"Sometimes, professors don't like feeling that anxiety — when something goes wrong and not knowing what to do.
"Sometimes, it can be hard to make a change when you have been doing something for one way for so long."
Jamarst Scott, business management major, said the genius board is great.
He said he has been in a class where a Smart board was used but this is his first time to be taught using a genius board.
He said the genius board is sturdier.
"[The smart board] does always scratch. The genius board is pretty solid and doesn't scratch."
Psychology major Cristo Silva said he likes the genius board — especially for his English composition class.
He said he likes everything in the new classroom, except the movable tables.
" … Some teachers move the tables to put the folks under the genius board, then we've got to put them back," he said. " … It takes more time just to move the table then put them back."