Professor to lead haunted tour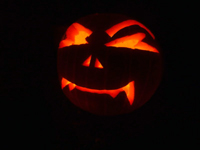 The University of Oklahoma campus is rife with legends of ghosts, secret societies and daring pranks. This Halloween season, OU and OCCC adjunct professor Jeff Provine will lead a walking tour to various spots on the Norman campus and tell the tales not shared in typical hours.
The tour will explore such items on campus as the cursed Mustang statue that may or may not have killed its creator, the steps of the Law Barn, where an engineering queen was crowned amid a prank war involving defacing school property, kidnapping and tampering with public services, an accidental beheading of a youngster playing in a dumbwaiter, and more. Provine said he was given the idea while traveling in Britain and taking ghost tours of cities such as Newcastle, Edinburgh, and York.
Tours will be offered at 7:30 p.m. Oct. 26, 27, and 28 beginning at the Mustang Statue north of the Fred Jones Jr. Museum of Art. The 80-minute tours are free and open to the public.
For more information, contact Provine at jprovine@ou.edu.