The teenage orphan struggled for survival in southeastern Oklahoma during World War II, his fight worsened by the color of his skin. Then along came a good Samaritan to help him find his way.
Dr. Henry Kirkland Jr. will reflect on the importance of the mentorship that defined the rest of his life. Kirkland, 84, will look back on the time of his youth and discuss themes from the book "Rainbow in the Dark" when he speaks on campus at noon Wednesday, Oct. 21, in the Bruce Owen Theater.
Written by two of Kirkland's students, the book depicts the true account of his own story of receiving guidance from F.K. "Skeet" Carney, an older white pharmacist, who employed the young black teenager in the town of Atoka, Oklahoma, at a time when Jim Crow Laws governed the land.
A member of the Oklahoma African American Educators Hall of Fame, Kirkland will talk about the power of mentoring, said Travis Ruddle, coordinator of Student Life.
Kirkland served as professor of zoology and biology at Southwestern Oklahoma State University in Weatherford for 25 years.
Dr. Wade McCoy, one of the authors of "Rainbow in the Dark," also will discuss the novel and his experience of being mentored by Kirkland.
Biology Professor Julian Hilliard, who has taught at OCCC since 2002, will be joining the conversation as well.
Hilliard said he took Kirkland's Introduction to Zoology class his freshman year at Southwestern.
During the class, Hilliard said, Kirkland asked if anyone would be interested in doing paleontology research with him.
"My hand just shot up as fast as I could raise it," Hilliard said. "I was amazed that no one else in the lab raised their hand. I thought it was going to be a race.
"My response was, 'I would love to, Dr. K!' Everyone called him Dr. K."
The research consisted of four or five ongoing projects on fossils that either Kirkland himself had found or a student had brought him from around Oklahoma.
The biggest find included a fossil from Roger Mills County which, after much investigation and research, was determined to be the skull of a camel native to the area 11 million years ago. The research was published in the Texas Academy of Science journal.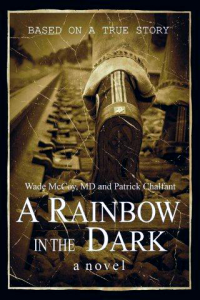 Hilliard noted that Kirkland put Hilliard's name as a co-author on the project rather than in the acknowledgments section of the paper.
"He and I really collaborated, which was a huge honor for me given that I was a 19-year-old kid at the time.
He showed me a huge amount of respect and kindness in including me. He had decades of teaching and research experience, yet he asked my opinion about things.
"He was an uber-mentor," Hilliard said.
"He was the best kind of mentor because he treated you like a peer at the time when it's clear that he's not a peer. You know, he's a PhD level professor."
Kirkland also was honored by David and Molly Boren with the Oklahoma Foundation for Excellence as Men-tor of the Year in 2013, Ruddle said.
Hilliard and Kirkland have kept in touch over the last 20 years.
When Kirkland called Hilliard because he was hoping to have a presentation about "Rainbow in the Dark," Hilliard said he was very excited to be able to see his mentor and friend again.
Ruddle said he hopes OCCC students can see themselves in this story.
"We hope the discussion will highlight the dynamic between the mentor and the mentee," Ruddle said.
"We're really pushing the mentoring program."
Ruddle said the science component is important too.
"It also ties into the chemistry and biological sciences," Ruddle said. All three people, Kirkland, McCoy and Hilliard are in a science field.
"His web has gone out very far," Ruddle said of Kirkland.
"That shows you when you mentor others and are able to make a difference in someone's life how far it can reach. It's a very positive domino effect."
The event is free and open to the public.
For questions or information, call Ruddle at 405-682-1611, ext. 7683, or email travis.b.ruddle@occc.edu.