Professor from Jordan teaches Arabic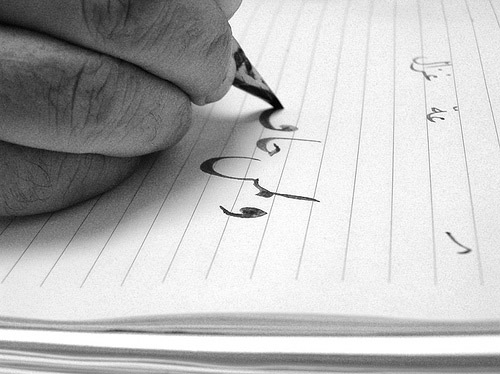 The Arabic language has been offered at OCCC for two semesters now with the possibility of adding Arabic II to the course offerings in the spring, if enough students enroll, said course Professor Thabet Swaiss.
Swaiss is the first professor to teach Arabic at OCCC.
"It is easy to teach something I know so well," he said.
Swaiss also teaches Arabic at Francis Tuttle Technology Center, where he has been for three and a half years.
Swaiss said he began his working career in the broadcast journalism industry in his home country, Jordan. He earned his bachelor's degree at the University of Oklahoma.
After many successful years as a television news reporter, he switched to advertising. Later he returned to the U.S. and worked for several years in New York.
Now, he said, he enjoys teaching his native language to interested students.
Swaiss conceded that Arabic is not an easy language to master.
Arabic uses a different alphabet, which students must learn. There are 28 letters in this alphabet, three quarters of them having an English equivalent. Only eight or 10 are uniquely Arabic, Swaiss said.
The Arabic language is read from right to left; also, up and down and diagonally.
Swaiss said he simplifies the language so it is easier to learn. For example, each class period, students will learn a line of the alphabet.
Even knowing the difficulty level, his students are really interested in learning the language.
"Ninety percent of the students take it seriously," he said.
Swaiss said he believes it is important to immerse oneself in other cultures.
"Only four percent of the world's population is the U.S.," he said. "There are so many more different cultures to learn about."
Twenty-two countries speak Arabic, Swaiss said. He said Arabic is essential to the culture of the world's 1.57 billion Muslims, because it is the language of the Quran, the Islamic holy book.
In any language, Swaiss said, he believes one must go to the country and immerse oneself in the culture to truly understand the language.
"The younger you are, the better it is to learn a language," Swaiss said.
Even though the class is new, there are hopes of this program growing.
If everything goes as planned, there will be two courses available at OCCC in the spring — a beginning course and an intermediate course.
For more information regarding the Arabic program, e-mail Professor Dianne Broyles at dbroyles@occc.edu or call Swaiss at 405-606-5650.