Professor finds creative side in glass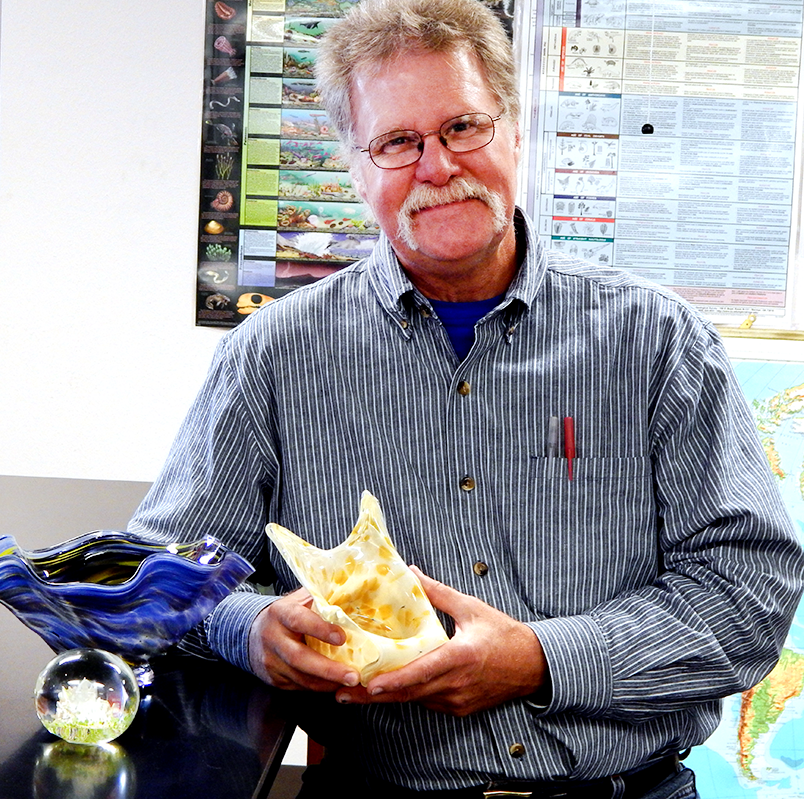 Imagine going into a building with a furnace reaching 2,000 degrees. Conditions are miserably hot, sweaty. Now imagine going there for fun.
Once a week, physical science Professor Gary Houlette does just this.
For about a year now, Houlette has been learning the delicate art of glass blowing. Houlette said he has always had an interest in glass blowing but it was not until recently that he pursued it.
"About six or eight years ago, I went by the (Blue Sage) studio after seeing it on TV and I couldn't find anybody there, so I kind of just forgot about it," he said. "Then last August, my wife bought me a lesson for my birthday, so that's when I actually got started."
Other than taking a pottery class at OCCC several years ago, Houlette said he did not have much experience with art.
"My background is engineering so I've always been geared to numbers and formulas, and this whole creative side has always been a challenge," he said. "I think you always have to try that other side of who you are supposed to be."
Houlette said his engineering background does have its benefits, however.
"I remember when I first started, [my instructor] told my wife 'he has really good hands' in reference to working the equipment," he said. "I've been mechanically inclined all my life, so I think that's helped me a little bit."
Houlette said he finds it interesting to look at glass blowing from an engineering standpoint.
"Because I've always taught classes that involve rotational dynamics, I unfortunately think about that when I'm spinning the glass; not to analyze it but to think 'it's spinning. It's actually doing what it's supposed to do.'"
Since beginning glass blowing, Houlette has not looked back.
Houlette said Blue Sage Studio has been very helpful in helping him with his craft.
"The people at the studio are very kind and encouraging," he said. "I've seen them work with beginning students over and over again, and I think the students have a wonderful experience. There's always someone there to help."
Because of extreme conditions while working with the glass, Houlette said, proper safety gear is required.
"Safety-wise, you need eye and foot protection. You have to be able to follow instructions and be safe," he said.
"When you're working with somebody, you use these wooden paddles, and hold them in such a way you keep the heat off the person working on the glass. When you see the paddles, they are physically burnt pieces of wood. It gets that hot."
Houlette said he enjoys coming up with new and interesting pieces to make.
"I'm into weird pieces. "It's really hard to make a perfectly symmetrical piece, so it's always kind of off-centered," he said. "My teacher, Roy, says there's no such thing as ugly glass. Every time I bring something home, my friends and family are amazed."
Houlette said vases are among his favorite things to make.
"My wife likes flowers so I make a lot of vases for her."
He said he has made so many pieces of glass he has a designated area in his home for the pieces.
"In one of our rooms we have them arranged on a dresser," he said. "Every weekend when I bring home more pieces, my wife will rearrange them.
"When she first did that, I was really happy because it … shows the beauty of all the glass when you can see it all together."
Houlette said he has donated his pieces to fundraisers, faculty scholarship funds, and to his church for a youth silent auction.
"It's fun to see how people react to my pieces," he said.
Houlette said he draws his inspiration from many things.
"The Chihuly exhibit at the Oklahoma City Museum of Art probably piqued my interest at one time," he said. "It's unbelievable. The lighting is key for glass many times, because you can't see the beauty of the glass unless it's lit properly, and they do a fantastic job lighting it there."
Houlette said he also will watch YouTube videos of people blowing glass.
"It's really fascinating to see people who have lots of glass blowing skills."
Houlette said he believes glass blowing is a hobby that is quickly growing in popularity.
"I've talked to people here at the college who have bought things off groupon for glass classes," he said.
"Lessons are $75 an hour, but that includes a one-on-one instructor, and all the glass materials and colors. It's not cheap and it's not for everybody."
For those interested in glass blowing, Houlette gives this advice: "Just continue.
"I took a poetry class with Richard Rouillard one time and he said 'most of what you write is not going to be very good, but occasionally you're going to write something really well,' so my goal is I have to do glass every week.
"I wish I could do it every day. You have to make a lot of bad glass before you can make some actually beautiful glass."
Houlette said he enjoys glass blowing mostly for the aspect of being creative.
"I'm just a beginner but if I can do this for five more years, I'll consider myself a glass blower," he said.
"But right now, I just go to a studio and see these guys that are incredibly talented. I enjoy the creative environment as a whole because it's just different.
"I don't consider myself an artist but I certainly enjoy doing it."