Professor celebrates culture through art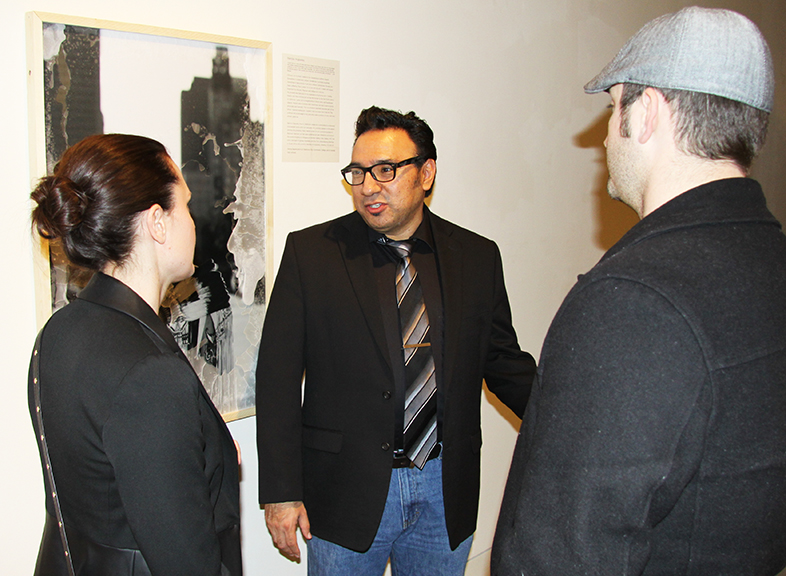 Adjunct professor Narciso Argüelles said his Latino upbringing has greatly influenced his career as an artist.
Argüelles, who grew up in Tijuana, Mexico, said he learned how to be inventive as a child.
He said his experiences growing up in a third-world country provided him with a unique artistic aesthetic.
Argüelles said he graduated with a master's degree in Fine Arts from the University of California in Irvine in 1998.
He has been an adjunct professor at OCCC since 2008.
Since then, Argüelles said he's taught Drawing, 2-D and Color Theory and Art Appreciation.
"The reason why I make art … [is because] I want to bring about change."
"If I were a writer, I would write about things that bring social and economic change for Latino people," he said.
"If I were a filmmaker, I'd make a documentary — but I'm an artist, so I make art."
Argüelles co-curated an art show entitled "Art: Balance + Design" at the Main Site Art Gallery in Norman on Jan. 23.
"The premise of the show is graphic designers making art," Argüelles said.
"I got the idea because a lot of my former students are professional graphic designers now [who] still make artwork."
Argüelles said the show, which gathered an audience of about 75 on its opening night, was comprised of pieces from local artists in Norman, Oklahoma City, Tulsa and surrounding areas. Artists included some of his former students.
"To me, the best artists have an awesome sense of design and the best designers ­— the ones who push boundaries ­— ­­are really influenced by fine art," he said.
Argüelles said the piece he contributed to the show, entitled "The Occupied," is the first of three portraits which display "people who were sometimes denied access to the American dream."
He said being a Chicano artist, he celebrates many aspects of his culture.
He said "The Occupied" represents the industrialization of the indigenous people, as it portrays a photograph of a Native American woman standing in downtown Oklahoma City, with cracked wax bordering the photo.
Argüelles said as an art teacher, he encourages his students to be confident in their work.
He said when students ask him how to gain artistic recognition, he reminds them not be phased by rejection and to put themselves out there.
He said being an artist may not warrant financial stability, but that's not why he makes art.
"I make art … to educate.
"We, as Latino people, have to represent … that's why I got into education," Argüelles said. "I had to help the next guy."
"The message that I want to give — especially to young Latino artists — is to not be afraid … to put themselves out there," he said.
For more information, email Argüelles at narciso.arguelles@occc.edu.
To view more of Argüelles's art, visit http://nastudiosokc.com.
To contact Siali Siaosi, email seniorwriter@occc.edu.