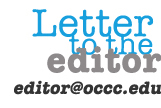 To the editor:
Poet Nathan Brown will read his work at OCCC from 12:30 to 1 p.m. Thursday, Feb. 10, in Room 132 in the Visual and Performing Arts Center.
Nathan will also host a poetry writing workshop for any interested persons from 1 to 1:30 p.m. the same day.
Brown believes poetry "should be written to be understood and the message of a poem should be accessible to everybody."
Brown is the recent recipient of the Oklahoma Book Award for Poetry.
His forthcoming poetry collection, "My Sideways Heart," published by Mongrel Press, will be available this spring.
Other poetry collections by Brown include, "Not Exactly Job," and "two tables over."
He has also published the novel, "Hobson's Choice."
Brown received a Ph.D. in English from the University of Oklahoma and resides in Norman.