Prof gives kudos, offers recommendations on winter delays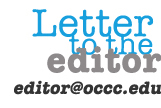 To the editor:
I want to take this opportunity to thank the college staff members for their hard work in clearing sidewalks and entry ways after winter weather came in Monday night, Jan. 27. Also I appreciated the timely phone message I received early Tuesday morning from the Campus Alert Network, saying the campus would open at 11 a.m.
I know the college wants to do everything it can to keep students and employees safe as we experience winter weather problems on campus.
One small adjustment to the late opening on Tuesday, Jan. 28, might have been even better for everyone.
These are my thoughts.
When the college announced the campus would open at 11 a.m., both students and professors jumped to the conclusion that 11 a.m. classes would be meeting as usual. The 11 a.m. time slot on Tuesday and Thursday is very popular at OCCC.
However, when students and faculty arrived on campus a few minutes early, they found themselves locked out.
Many students waited outside in the parking lots, keeping warm in their cars.
Others found themselves caught in traffic lines as many people converged on campus at the same time.
The result was that almost everyone was late for class, something one would hope to avoid during the second week of the semester when professors and their students are just getting acquainted.
The process might have gone more smoothly if the college had opened at 10:30 a.m. with classes beginning at 11 a.m.
Another option might have been for the college to open at 11 a.m. with classes beginning at 1:30 p.m.
Either way both students and faculty would have known what to do.
In the future, such a small adjustment in the communication could make expectations clearer to all affected by winter-weather delays and closings.
Again, thanks for the good work. Here's hoping the winter storms in the forecast now don't cause us more headaches.