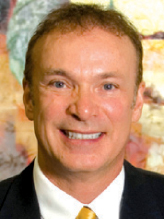 President Paul Sechrist said federal loans are a fact of life for many students — as they were for him when he was in still attending college.
"As long as one does not borrow too much, borrowing some may make the difference in getting the degree, as it did in my case," he said. Sechrist said he took out student loans that he paid back once he started teaching so he understands the need firsthand.
"Without the availability of student loans, I would have not been able to complete my degree when I did."
Forty-three percent of OCCC graduates leave with student loan debt averaging $8,151, about the same price as a used car, he said.
"Cars depreciate in value. A college education is still the best general pathway to a higher paying job and a satisfying career."
However, Sechrist said, student debt is real debt and must be paid back.
Therefore, he said, it's important students make sure their career goals match the amount of debt they take on.
"Connecting college majors to careers is another step — including making sure that when one takes on debt to go to college, there is a plan in place to secure a job that pays enough to pay back the loan and also to pay other costs, like housing and transportation, for example," he said.
"The good news is that almost all careers that require a college education pay more than jobs that do not require a degree."
Taking on a large amount of debt without having a plan to pay it back may result in negative consequences, he said, including defaulting on the student loan.
Sechrist advises students to avoid taking on more debt than they actually need to make it through college.
"In short, borrow as little as possible," he said. "[Also], avoid default if you can. Default on a student loan only as a last resort.
"Generally, the debt will not be forgiven even through bankruptcy.
"It is always unfortunate to have a student or former student default on a student loan. While it is the intention that a college education will lead to gainful employment, that is not always the case."
In an email, Sechrist said FY 2013 data shows more than half of OCCC graduates leave with no student loan debt.
" … Fifty-four percent of those who graduate with an associate degree have zero debt," he said.
"Of the 46 percent who have borrowed, the median average debt is $9,291.
"(Of) those graduating with a certificate of mastery, 72 percent graduate with no debt at all. Of those certificate graduates with debt, the debt is $7,011 (median average).
"Combining all graduates last year, 57 percent have no debt at all. Of the remaining 43 percent who did acquire debt, the average is $8,151."
He said that is a noteworthy accomplishment.
"I know that our students often choose OCCC because of its affordability and the option to either not go into debt at all, or borrow as little as possible."