President honored for leadership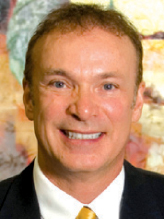 OCCC President Paul Sechrist was among the honorees for The 2nd Annual Oklahoma's Most Admired CEOs, hosted by the Journal Record newspaper at an awards ceremony held Feb. 17 at the National Cowboy & Western Heritage Museum in Oklahoma City.
Sechrist was honored for his work in a Non-Profit with more than $10 million in annual revenue.
The criteria for selection included: leadership and vision, community leadership and service, corporate leadership and service, competitiveness and innovation and financial performance and growth.
"The event was an opportunity to showcase many of Oklahoma's great companies and non-profit organizations," Sechrist said.
The importance of the event was emphasized by the attendance of Gov. Mary Fallin, Attorney General Scott Pruitt, and Secretary of Commerce Dave Lopez, he said.
"Being named as one of Oklahoma's Most Admired CEOs provided me with an opportunity to recognize the great work of OCCC's dedicated faculty and staff, and inform a wide audience of the tremendous value OCCC brings to the state," he said.
The President's Cabinet nominated Sechrist for the award with support from the OCCC Board of Regents. Marion Paden, vice president for Enrollment and Student Services, wrote a letter of recommendation on behalf of President's Cabinet while former Regent Dave Lopez wrote a letter on behalf of the Board of Regents.
Lopez, in his letter, wrote: "The best of leaders 'walk the talk' and that is the case for Dr. Sechrist. Whether he is raising funds from fellow CEO's for a new performing arts center at OCCC or chatting with students on campus, Dr. Sechrist demonstrates his belief in the central mission of the college: to bring dreams to reality through education."
Sechrist said he was humbled to accept the honor. At the banquet he spoke of OCCC's mission and what inspires him everyday as the president and CEO of a large non-profit college.
"I was talking to a student here recently and I asked if this was her first semester, and she said, 'No, I have been here a couple of semesters and I want to tell you my story,'" he said.
Sechrist said the student came to get her adult basic education to prepare her for the GED because she had dropped out of high school.
"She received her GED and had scored highly on her test scores. The teachers were telling her to attend college," he said."The student was in her third semester at OCCC and she is a 4.0 student. She just wanted me to know how much she appreciated OCCC."
Sechrist said stories like hers inspire him on a daily basis.
"Students inspire me, faculty inspire me, staff inspire me.
"If I ever get a little discouraged or frustrated or the stress gets too high, (I) just walk around, talk to some faculty, talk to some students and my spirits are restored," he said.
Teresa Moisant, OCCC regent, attended the ceremony.
"It was a beautiful moment for the college and the president," she said.
Moisant said Sechrist's acceptance speech communicated the atmosphere of what the college has to offer.
"It could not have been more well written to make the community aware of this gem in south Oklahoma City."