Pops sundae a sugary delight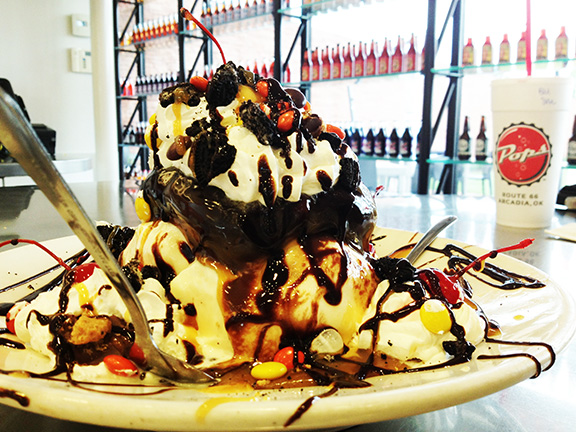 If you have ever been to Pops in Arcadia, chances are you have tried a strangely-flavored soda or two in your time there. What you may not have tried is not soda at all.
On top of Pops' menu full of burgers, hot dogs, salads, etc., they also offer a small dessert menu. On that menu is probably one of the best desserts I've had in my life.
Pops' ice cream "sandwich" sundae provides all the sugar you will need to last you a week.
For $8, customers receive a giant scoop of vanilla ice cream sandwiched in between two extra large cookies of your choice topped with with whipped cream, caramel, chocolate sauce, oreos, Reese's pieces, full-sized Reese's, chopped nuts and cherries.
Designed to feed a family of about four to six, it does not come in a smaller size; therefore, if you come alone, be sure and save lots of room for dessert.
Having been to Pops half dozen times or so, there is not a single time I have been able to pass up this dessert.
Usually only going with one or two other people, we have never been able to finish it either. Nonetheless, we always try.
Ice cream sundaes are delicious to begin with but when you put it in between two giant cookies, it changes everything. I usually pick peanut butter and chocolate chip cookies to give my sundae some variety.
It's fun to watch other customers' reactions as the waiter or waitress brings out the giant dessert and sets it in front of two people. It's as if they already know you aren't going to finish it.
I highly recommend this sundae for anyone who visits Pops. I am not a big ice cream eater, but when you combine dessert with food, friends, and fun, it makes for a great experience. If you finish the sundae, it's also a great way to earn bragging rights and make all of your other friends jealous they weren't there too.
The only drawback is you can't take it in a to-go box.
Pops is located at 660 W Hwy. 66 in Arcadia.
Rating: A