Police pull over autistic students in educational event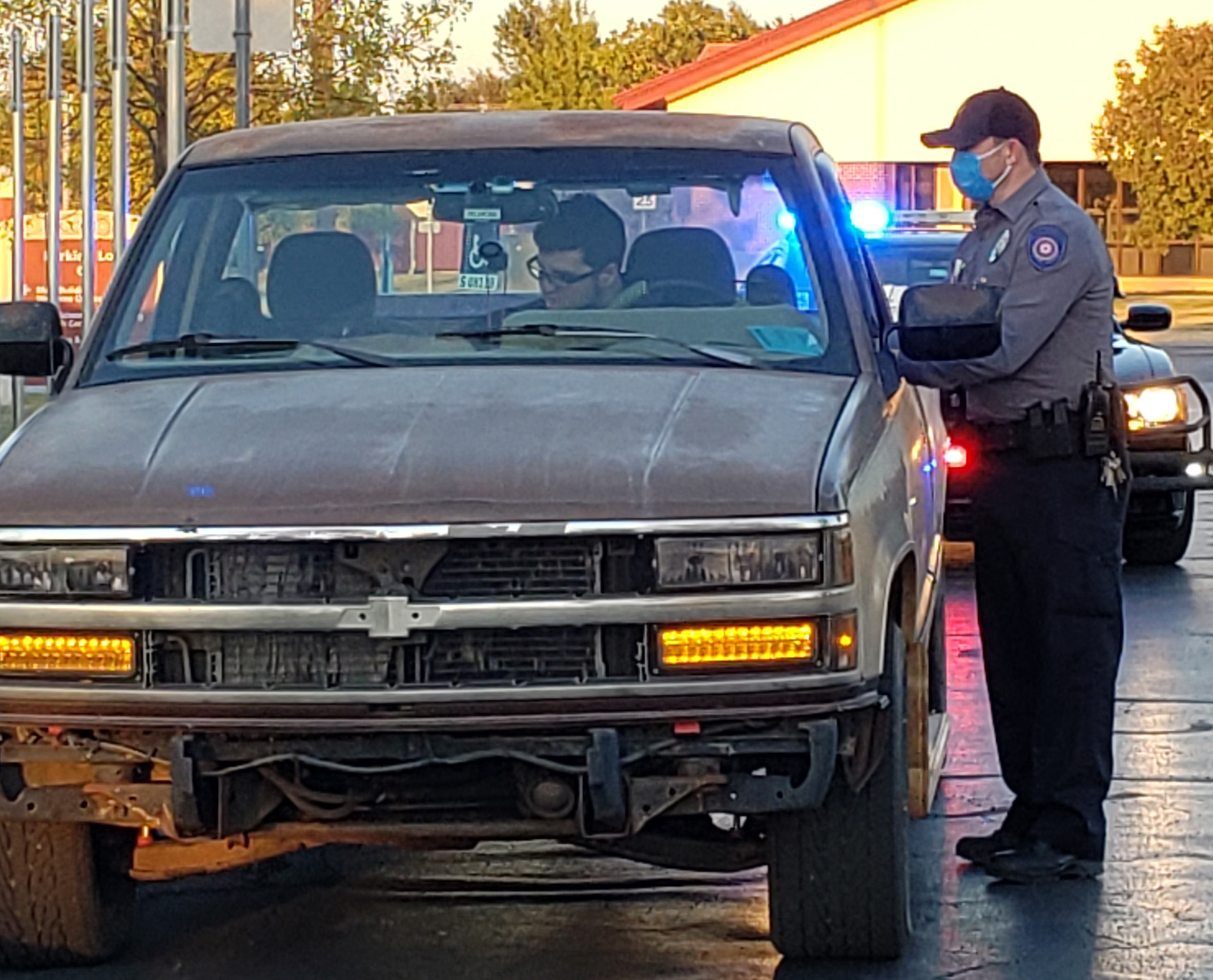 When teenage drivers get pulled over for driving offenses, parents and loved ones don't often celebrate. But the parents were all smiles Oct. 24 when their young drivers were stopped three times for traffic violations including running a stop sign on Faculty Circle Drive at OCCC.
No one actually received any tickets nor were in trouble with the law. Rather they were austic drivers and others taking part in a training to ease anxiety and promote positive law enforcement interaction.
The training was sponsored by the Oklahoma Autism Center Foundation and AutismOklahoma.org Piece of Mind project, and facilitated by the Oklahoma City Community College Police. Sarah Baker, professor of Speech, Language, Pathology Assistant and SLPA program chair said there were six who signed up for the first-ever event.
"This was the first mock pullover that we have attempted, and it ws very successful," she said. "Participants left the event feeling lesss anxious about being pulled over for a traffic stop and appreciated the opportunity to get to practice in a real-life situation."
Baker said the event was important because individuals on the autism spectrum often have difficulty responding and communicating in high-stress situations, and the event may have prepared them to face real-life police interactions easier.
The drivers came with their families and spent two hours in the training, which spanned the diameter of the campus.
Baker's son Ian said he wasn't nervous or afraid even though he has never been pulled over by a police officer. "I think it will be all right," he said.
Zaxhery Cantrell, the third driver to be pulled over, said his mother told him about the event and he appreciated being a part of it.
"Being austistic and learning how to drive, it will really help me for when I do get pulled over in the future," he said. "It definitely will be good for me."
The police tried to make the simulation as true to life as possible. OCCC
Officer Richard Dominic and his partner Officer Rachel Lewis pulled Cantrell over for driving through a stop sign near the campus Police Department on the southeast side of campus.
As Lewis stood on the opposite side of Cantrell's pickup, Dominic calmly and kindly explained to Cantrell what he had done wrong, gave him a simulated ticket, and explained to him how to handle the ticket by paying for it or going to court.
"This is a good thing and it teaches them. That way if [getting pulled over] does happen they don't get too anxious because they've gone through it before and they've had a run through of how it could go" Dominic said.
"It's also great for the parents" so they can see that police will work well with their children in law enforcement situations, he said.
Dominic said he usually wouldn't give a student a ticket for not observing a stop sign; rather, he'd use the opportunity to educate the driver.
Baker said the simulation was a great training event for the drivers, their families, and the police.
"OCCC police officers got the benefits of interacting with indiviuals on the autism spectrum. This event provided them the opportunity to become more aware of…how to support those students with ASD on campus," she said.
In addition to learning how to interact with police, attendees were given placards they can put on their sun visors to alert police that they are autistic. Also, they were given business-card sized notifications they can hand police along with their licenses if they do get pulled over for real.
The card explains to police what they can do to better communicate with a driver who is autistic and what to expect during the interactions.