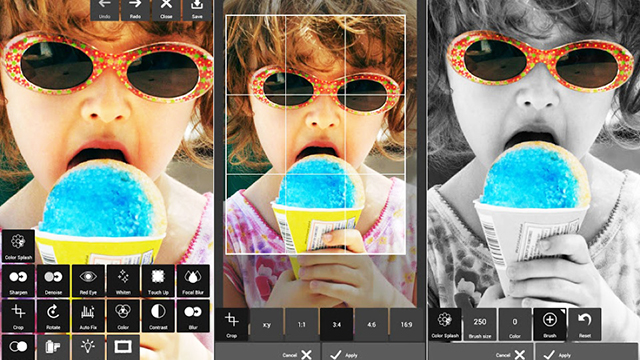 Pixlr Express is a great on-the-go free photo editing application available for mobile use as well as computer use.
While it does not contain the same extensive amount of tools as Photoshop or similar software, Pixlr Express has more than 600 editing tools that are sure to satisfy simple photo editing needs without the cost.
The application is useful for various purposes. Simple, easy effects such as red-eye or blemish fixes are just one click away with this application.
The user also is able to adjust color, focus, whiten teeth, add vibrance, crop, blur or sharpen and more.
The application also offers more creative effects for more artsy intentions. Users can add subtle color effects to their photos such as sepia, black and white, or vintage as well as others or they can go the less subtle route and add neon colors or unicolors along with other creative options.
Not only are quick fixes and effects available, but overlay options as well. Users can make their photos appear to be illuminated by city lights, fireworks, stars, bubbles, flames, and many other fun additions. Users can add effects that make the photo appear to be tie-dyed or retro, grunge, vignette, and more.
A large, diverse array of border options also are offered. Border options include simple ones such as round or square edges to more unique ones with patterns, film themed, ink themed, or nature theme.
After editing, users are able to share photos on Facebook, Twitter or other social networking websites.
Another feature that sets this application apart from others, is that users are able to adjust the size of their photos. Photo sizes range from small (180×320), original or custom.
Users also are able to add text in a variety of different fonts and colors. Pixlr Express is available for most Android phones. By going to www.pixlr.com/express, users can upload files from their desktop or webcam as well as featuring a collage maker.
Pixlr Express is a great option for anyone looking for an easy-to-use, simple, diverse application that offers great photo editing options for all needs without the cost of other software.
Rating: A+