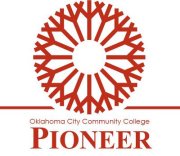 Pioneer reporters brought home a total of 26 awards from the annual Oklahoma Collegiate Media Association luncheon held Friday, April 5, on the Oklahoma State University campus in Stillwater.
For the 10th straight year, OCCC's student newspaper the Pioneer won first place for two-year newspapers.
A judge said of the paper, "Strong stories, good leads, clear focus, well sourced."
The online paper also won first place in the two-year college category. Judges gave it high marks.
"A clean and easy to navigate site that has a good amount of content for readers."
Pioneer Photograher Chris James won nine of the 26 awards. James said he was surprised so many of his entries had won.
"It was the perfect way to end a good year at the Pioneer," James said.
James' first place entry in Sports Photography was a photo of a synchronized dive at the Mountain West Swimming and Diving Championship Feb. 25.
Former Staff Writer Jeremy Cloud won first place in News Writing for his article "OCCC employees receive first raise in years." A judge commented that the story had good organization.
The Pioneer won both first and second place in investigative reporting.
The first-place award was awarded to former Pioneer staffers Sarah Hussain, Joey Stipek and Mike Wormley for a two-part series on OCCC's handling of open records requests.
Second place went to former Pioneer Staff Writers Yvonne Alex and Joey Stipek for an article on the Aquatic Center budget.
Student Erin Peden won first place for a concert review. Peden said she was glad to be recognized for her work.
"I love going to concerts and writing about them so I was excited when I found out I had won for my Rod Stewart and Stevie Nicks review," she said. "Writing reviews is my specialty so it was nice to finally get recognized for all the work I've done."
News Writing Instructional Assistant Ronna Austin said she is happy with the results and proud of the students.
"The Pioneer always wins more awards than any other school at OCMA. That is no accident. We have very capable and professional student journalists," Austin said.
She predicted that next year, the Pioneer will win even more awards and continue to place first in the 2-year overall newspaper division.
"We are always striving to improve," Austin said.
The conference was held in the Wes Watkins center on the OSU-Stillwater campus where students were able to attend sessions by professionals such as Kelly Hines, Tulsa World sports writer; Phil Cross from Fox 25; and Student Press Law Center Attorney Adam Goldstein.
Students also had the chance to interview with state newspapers including: Enid News & Eagle, Elk City Daily News, The Chickasha Express Star, Grady County, Oklahoma Watch, Stillwater NewsPress, Wesner Publications and Woodward News.
The 26th Annual Paul Miller Lecture speaker was Lynn Povich, award-winning journalist and author of "The Good Girls Revolt." Povich spoke about her experience as one of 46 women who sued their employer Newsweek magazine for sex discrimination.
Following the lecture students accepted their awards from OCMA organizer Joey Senat during the luncheon. For more information, about OCMA, visit www.ocma.okstate.edu.
The Pioneer Online is located at www.occc.edu/pioneer.