Pioneer Picks: Clipping – Splendor & Misery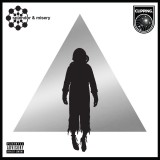 Creating stories through music is nothing new. Albums like this use the music as the catalyst which can take you thousands of light years away, or mimic life in ways too real to digest easily. The hip-hop trio Clipping manages to create a world within Splendor & Misery that feels very real and very terrifying.
Splendor & Misery demonstrates incredible creativity through abnormal and futuristic beats produced by members William Hutson and Jonathan Snipes. The abrasive and ambient mixing is something these guys are definitely familiar with. They used this method of sampling household items in past work, such as alarm clock beeps in their song Get up or the clings and clangs of bottles in their song Work Work, both tracks from their debut album CLPPNG.
The tight and intricate verses, rapped by group member Daveed Diggs, are something literally out of this world. Recently, he was casted to be in the Broadway musical Hamilton, and fans of the trio were worried if they were going their separate ways. Daveed returned from his Broadway run, with what seemed like a more theatrical approach to his art, and it really shines in this album.
I don't want to spoil much, as the album builds a movie-like narrative from the get go. In the second track of the album, Daveed gives a fast and frantic run through of what is going on as a ship in space shouts 'Warning,' realising cargo has escaped. What we get in the rest of the album is the story of what the cargo is and a brief history of time to give context to the insanity that is the world of Splendor & Misery.
It is a story of depression, desperation, race, and much more in a 37 minute run-time of schizophrenic movements. It's not an easy listen if you don't know what you're getting into, but if you go into it with the right mindset, it's a journey well worth your time and ears.