Pioneer of student journalism retiring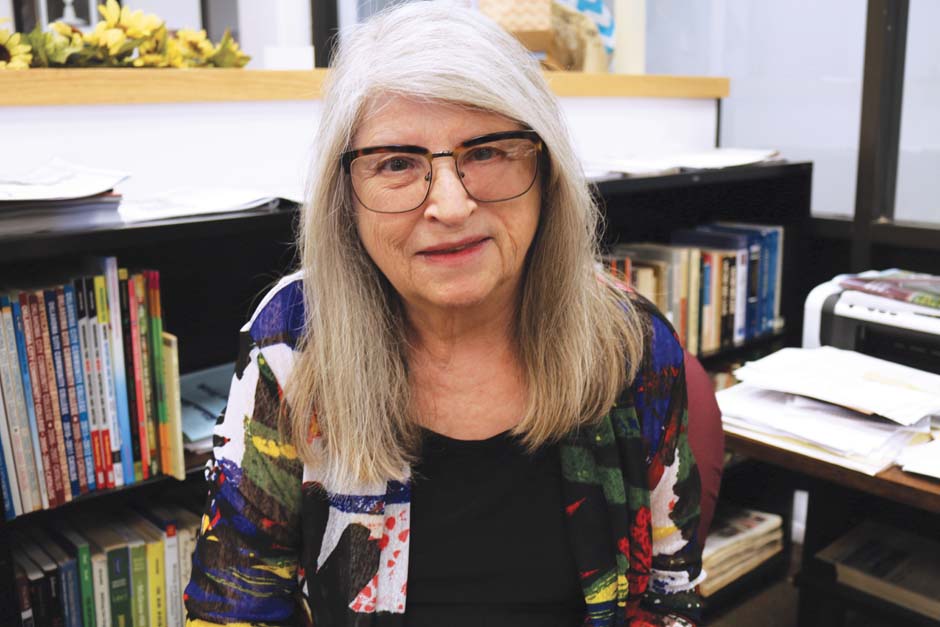 After working at OCCC for over 43 years, teaching News Writing and English as well as serving as the Pioneer Faculty Adviser, and after teaching more than 10,000 students, Sue Hinton put her last issue of the Pioneer to bed.
On May 9, Hinton celebrated her retirement in room 1F2 of the Arts and Humanities building – a room that has served as her office and the office of the newspaper for the last several years.
"I hope my legacy is going to be an independent newspaper at this college forever," Hinton said.
Hinton said she was grateful the college has supported the newspaper and staff for decades. She said the college's backing of a regular print and online newspaper translates to more students going to work after earning degrees.
"OCCC has been very generous to let students work. We have found the students with the most multi-media and online experience are the ones that get the job offers," she said.
"There is always going to be a job for journalism grads who worked for student media, and had an internship. That's the pathway into the job market, and begins with everybody having a portfolio of at least two published stories."
In attendance at her retirement celebration were journalists and editors of various publications and media outlets who had worked formerly for the Pioneer and who'd been taught by Hinton.
For her work in educating journalists, Hinton, was inducted in 2009 into the Oklahoma Journalism Hall of Fame and has won many awards including the Outstanding Journalism Educator of the Year award by Women in Communications, Inc. She has also been honored by the college with the OCCC President's Award for Excellence in Teaching.
Mass Media Communications Professor Gwin Faulconer-Lippert said Hinton has always been a role model for an OCCC professor.
"Who else would take algebra and video production along side her students, and edit thousands of stories and assignments for the good of her students?  They all remember covering murder trials, attending public meetings and being blessed by her genuine interest in them," she said.
Faulconer-Lippert said Hinton is a tireless worker who cares genuinely for her students.
"Sue Hinton cared that every student succeed…and so they do," she said.
Hinton has worked for The Oklahoman, the Norman Transcript and Lawton Morning Press.
However, while she is leaving the newsroom, Hinton won't leave the college entirely.
"I enjoy being around young people. When you only get to hang around folks your own age all you're doing is talking your health, and that only goes so far."
Hinton has been around "young people" for more years than most professors at OCCC.
She was hired Sept. 1, 1972, at the end of her master's program at the University of Oklahoma. She said she came to teach English, but in 1978 was asked to broaden her workload.
"[The college] had a News Writing class that nobody really wanted to teach, so they asked me and I said 'sure.'"
Quickly her duties grew into leading a program that included a student-run newspaper lab.
She became the faculty adviser for the Pioneer later that year.
 In doing so, she focused her efforts on giving students real-life news gathering experience and pulled together editors, photographers, and writers. Later, she added advertising from businesses from around the metro area.
"We made a commitment that the students that take the journalism class are going to publish two stories," she said. "For the students, it's the best learning opportunity they have in the class," Hinton said.
"I have a lot of enthusiasm for journalism. Working one-on-one with each student, you let them know how much you support them. And make them feel that there is no way they can fail," she said.
Hinton plans to stay in contact with former students as she has over 3,000 names and phone numbers stored in her cell phone, she said.
One of those students likely in her cell phone is Israel Ragle-Tullis, a former News Writing student.
"I'm going to miss her lively and vivacious attitude. She claims that she is not all knowing, but she really is knowledgeable, and she is always willing to share any and all of it," Ragle-Tullis said. "She is truly invested in her students."
Former and current staff members also praised her for her impact on their lives.
 "I think Sue is a powerhouse of journalistic integrity. Working with her daily is inspiring, because the woman doesn't miss anything," said 2016 outgoing Pioneer editor Lenora Lavictore.
"She has a hawkish editorial eye, and that has always benefited my stories. She is just so fun to be around."
 One of the many former students to have praised Hinton is Pioneer Lab Director, Jorge Krzyzaniak, who credits Hinton with keeping him in higher education.
 "Sue changed my life even before I started working with her. I took one of her classes a long time ago. If it hadn't had been for her I don't think I would have continued on with college. I sure wouldn't have ever been involved with journalism.
"Sue was one of the few people in my life that saw promise in me. Working with Sue has been one of the greatest pleasures in life" he said. "I feel like I can reach out to her anytime. I intend to drop in on her and keep her in my life," Krzyzaniak said.
In addition to teaching English Composition, Hinton has additional retirement plans. She said she intends to travel to Ireland.
She is also considering community engagement and continuing to impact youth by becoming an English tutor for Norman's homeless teen population through the city's Bridges program.  "That will be one way to be involved with young people," she said.
As of press time, Hinton's office is clean and empty, devoid of the decades of books and clippings she'd collected there to share with friends and students whenever she could.
Hinton will return to teach English composition as an adjunct in fall and said she plans to teach least two classes per semester.