'Peaky Blinders' an intriguing series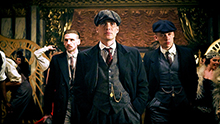 "Peaky Blinders" opens in Birmingham, England, in 1919, and centers around the Shelby family and their gang, the Peaky Blinders.
Arthur, played by Paul Anderson, is the war-scarred oldest brother and head of the family. But, it is the middle brother Tommy who viewers quickly discover is really in charge.
Season one centers around Tommy's dilemma about what to do with a secret stash of stolen guns that could raise the small Irish gang's fortunes or cause its ruin at the hands the IRA, a rival gang, or the British government itself — all of whom want to recover the guns.
Watching Tommy, played by Cillian Murphy, intelligently navigate the web of intrigue is a pleasure, as is the performance of Sam Neill as Inspector Chester Campbell.
Neill brings a cool menace to the role as he plots to discover where the Peaky Blinders have hidden the guns.
A tense triangle emerges between Tommy, Inspector Campbell and Grace, played by Annabelle Wallis, a British spy in Campbell's employ who poses as a barmaid to infiltrate the Peaky Blinders.
The plot turns sharply on this point as season one ends in a cliffhanger with an unexpected resolution at the beginning of season two that shows the epic scope of the show.
Set two years later, season two opens with Tommy and the Blinders on the verge of expanding their criminal enterprise to London, and the world of high-stakes horse races.
New rivals emerge in the form of brutal Jewish gangster Alfie Solomon played by Tom Hardy, and Italian Darby Sabini played by Noah Taylor from "Game of Thrones."
Overall, I found "Peaky Blinders" very ambitious.
The BBC and creator Steve Knight are clearly trying to build an epic story that follows the rise and maybe eventual fall, of the Shelby clan.
The pacing can be a little choppy at times, but this is made up for by the beautiful period detail of the show, and the good soundtrack.
Rating: A-