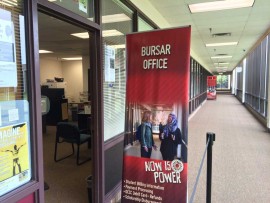 Students have until 5 p.m. Monday, Oct. 5, to make the second installment payment of 25 percent on their tuition accounts, said Bursar Cynthia Gary. She said those those who miss the deadline will be assessed a two percent finance fee on what is owed.
Gary said there are three remaining tuition due dates: Monday, Oct. 5, Thursday, Nov. 5 and Monday, Dec. 7.
Those students who are waiting for financial aid to come in also will be assessed a fine, she said. However, Gary said, fines will be removed once the financial aid arrives.
Students will only receive an electronic bill via their student email account, Gary said, so it's important those accounts are being checked regularly.
"I cannot stress that enough," she said.
In addition, she said in a recent email, students can sign up for text alerts on their cell phones.
Payments can be made in a number of ways:
The  payment drop box located to the left of the OCCC Club activity billboard at the entrance to the hallway leading to the Bursar's office. A student ID number and the term being paid must be included on the check.
Free E-check (ACH) payments can be made by logging on to MineOnline or at the Student Portal account.
Credit/debit card payments can only be made by logging in to MineOnline or at the Student Portal account. A convenience fee will be charged.
Kiosks are available in the Bursar's office to make online payments.
Cash, check, cashier's check, or money order payments can be made in the Bursar office.
Mailed payments must be received in the Bursar's office by close of business on the due date.
Gary said many students believe they can't make payments prior to the semester starting.      "A lot of people don't realize that when you enroll in March, you can go ahead and start paying," she said.
To contact the Bursar's Office, call 405-682-7825