Overall, graduation survey results positive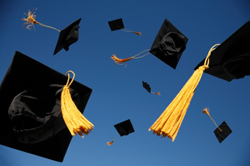 Of the 800 out of 1541 OCCC graduates who responded to the college's 2012 annual graduate survey, most ranked their overall satisfaction at OCCC with an average of 8.77 on a 10-point scale, according to a document prepared by the Institutional Effectiveness office.
While overall satisfaction is high, other areas of the survey received less impressive results compared to the survey of 2011 graduates.
The survey shows 45.3 percent of the responding graduates are not working in a position related to the degree or certificate they completed at OCCC compared to 40.9 percent in 2011.
About 41.5 percent said their position is directly related compared to 47.2 percent in 2011.
The results were gathered from a survey sent out to all OCCC 2012 graduates by mail six months after their graduating semester, Institutional Effectiveness Director Janet Perry said.
The survey consisted of 17 education and employment-related questions and a summary of the graduates' overall experiences at OCCC.
"The college takes the opportunity to survey our graduates through a variety of different methods to increase the response rate," Perry said. "It's over 50 percent which is our goal. The average for a survey such as this is about 30 percent and people are usually very pleased with getting a 30 percent response rate. So it's an excellent response rate."
Perry said the response rate of this survey was only 17 percent when she started working at OCCC.
Employment percentages stayed about the same as the 2011 results: 65.8 percent responded that they are employed full time, 23.3 percent responded working part-time, and 10.9 percent responded as being unemployed and seeking work.
Among the average approximate annual salary before taxes, most responded with an income of $30,000 to $35,000.
Nursing, business, psychology, computers and accounting were among the top five majors reported.
When asked to rate how well their degree or certificate prepared them to continue their education, most responded it had prepared them well with an average of 8.6 on a 10-point scale.
The University of Central Oklahoma is the top institution graduates reported transferring to after graduation with 162 students reported in attendance there, according to the document.
University of Oklahoma came second with about 142 reported in attendance and 20 at Oklahoma State University.
Only 5.7 percent of graduates reported having difficulties when transferring to another institution. About 74.8 percent of graduates said they are attending school full time, and 25.2 percent reported part-time enrollment.
Perry said it's vital for graduates to respond to this report.
"I think the critical thing, and a lot of people don't understand this, is that when they respond to the survey, I collect each and every comment that the graduates provide to us," Perry said. "This information is shared by division with each of the deans. They look at those and see if there are some areas that they may want to improve upon."
When asked if they were likely to recommend OCCC to a friend, 97.7 percent of graduates responded "yes."
About 88.5 percent of graduates said they reached their intended goal after graduating from OCCC, according to the document.
For more information, call Perry at 405-682-1611 ext. 7213.