OU President David Boren Retires
After over 20 years of leadership Oklahoma University will gain a new President.
President Boren was rumored yesterday to have been stepping down from his position as President.
The Chad Alexander show discussed with Todd Tucker wednesday morning about Boren's plans, and several OU fans were not ready for the announcement.
Hours later President Boren made his announcement saying, "Please join me at 2:00 p.m. today at Holmberg Hall. I will be making an important announcement about the future of the university."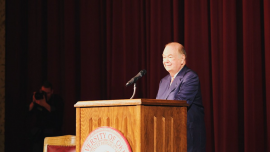 Boren said in his speech he decided he would leave "When University was at maximum strength now the time has come."
He said he plans to step down June 30th after the school year is over, and if there is not a successor for his position then he will stay.
"I pledge to do my best, which is what this University deserves."
Later President Boren took to Twitter again to thank the many people for making his time at Oklahoma University the best.
"Thank you for making my time at OU the most satisfying period of my life," he said. "Let's continue our movement over the next 9 months, and beyond."
More to come as the story develops.