Orientation provides students resources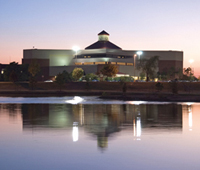 New Student Orientation at OCCC provides valuable resources for college success.
Student Life organizes these sessions, which last approximately two and a half hours and are held throughout the summer until Aug. 25, First Year Experience and Student Life Programs Coordinator Amy Reynolds said.
"Right now we have three sessions a week to make sure we are offering different days and times for everyone to be flexible, and making sure we're reaching all of our possible students," she said.
Regardless of a student's status, whether it is new to college, transferring from another institution or returning after a few years off, Reynolds said, NSO helps prepare them for the upcoming semester.
According to the National Orientation Directors Association surveys, students are more likely to be up to 60 percent more successful in college if they attend an orientation.
NSO provides information about OCCC-specific resources, such as campus labs, parking, student ID cards, paying for college and more.
"Our presentations are basically by staff," Reynolds said.
"But then also presentations by our students that work in Student Life office."
She said the program leaders are there to help make students feel comfortable.
"They get to know them kind of on a one-on-one basis.
"They sit at the tables with them just so that when they come in the fall they have a familiar face. They feel like they're connected here and that's been a really good thing for our students to see that other students care about them."
Reynolds said student Program Leaders who present the NSO sessions also teach students general strategies for being successful in college: note-taking, study skills, time management, and more.
"The way that our presentation is structured is we have formulated a series of questions, like the who, what, when, where, why and how of OCCC," she said.
Leaders provide all the information needed to begin classes at OCCC, Reynolds said, including a campus tour and visits with the Financial Aid and Bursar offices.
Student Jake Blocker said the NSO was helpful.
"I haven't been here for a couple years and there have been some things that have changed," Blocker said.
"I'm glad I learned about them before starting classes."
Reynolds said more than 300 students have participated in NSO since May.
"We average about 1,000 students (who) go through NSO each summer," she said.
For more information, visit www.occc.edu/StudentLife or contact Student Life at 405-682-7523.