Open carry law not applicable to OCCC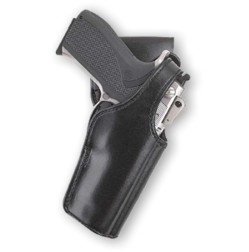 Oklahoma recently passed a law that allows residents with a permit to openly carry certain weapons.
Termed "Open Carry," the law became effective Nov. 1 and refers to an "unconcealed handgun, loaded or unloaded, carried on your person in a belt or shoulder holster that is wholly or partially visible."
The new law notwithstanding, no one is allowed to carry a gun on campus, except police officers. Faculty, staff and students were reminded of the college's "Weapon-Free Environment" policy via an email sent on Oct. 31, by President Paul Sechrist.
"Given the media attention around the new Oklahoma 'open carry law' that goes into effect on November 1, 2012, I thought it might be helpful to remind everyone that this new law does not have an impact on college and university campuses," Sechrist said.
Biology major Taylor Obler said he's not against guns but he's glad they are prohibited on campus.
"I grew up in a family that hunts, so I've always been around guns," Obler said. "I just don't think it would be safe to let students roam around campus with them."
Sechrist provided a link to the policy that states guns are not allowed on campus.
"Anyone who violates this policy will be subject to discipline, up to and including separation from employment, dismissal, expulsion, or immediate removal from OCCC property," the policy states.
Police Chief James Fitzpatrick said he would caution everyone who comes onto the campus to keep the policy in mind.
"Any person carrying a weapon on to the OCCC main campus or off-campus locations will be referred for prosecution if discovered to be in violation of the law," he said.
Fitzpatrick said OCCC has no jurisdiction in the public areas surrounding the campus.
"The new open carry law should not impact OCCC," Fitzpatrick said.
"Persons with a handgun license are informed regarding the limitations of their license. I find them to be very aware and do not expect this to be an issue."
Heather Gerner, a premed major, said she is uneasy about her safety on campus now.
"I don't think this law should have passed, especially in such a conservative state," Gerner said. "I really hope people are smart about it and that our campus police will protect us."
Fitzpatrick said if anyone were to come to him expressing their concern about this new law, he would reassure them of the college's policy.
"I would explain to them the ability of (people with) handgun licenses to openly carry a holstered pistol will not affect their safety while attending school events," he said.
"The open carry issue does not change the restricted conditions within the law regarding the carrying of a weapons on a college campus."
OCCC Policy No. 1016 "Weapon-Free Environment," created in July 2007, explains in detail what those on campus can expect.
It reads, "To promote the safety of students, employees, and visitors, Oklahoma City Community College ("OCCC") prohibits the possession, use and display of weapons of all types at all times on OCCC Property and during OCCC activities, trips or events, except as specifically authorized below or as otherwise required by the Oklahoma Self-Defense Act.
"The unauthorized carrying of weapons applies to all OCCC employees, students and visitors, except authorized peace officers, including the campus police," according to the policy.
"Discipline authorized by this policy is independent of and in addition to any criminal or civil sanctions which may be sought pursuant to the Oklahoma Self-Defense Act and other statutes."
The weapons covered in this policy include pistols, handguns, revolvers, shotguns, rifles, blank guns, starter pistols, stun guns, antique and replica firearms, and firearms of any kind, whether loaded or unloaded; daggers and knives of all kinds other than small pocket knives, kitchen utensils or instructor-authorized classroom/lab utensils; clubs and other blunt weapons; ammunition; and explosives.
According to the policy, "OCCC property means all buildings, offices, facilities, grounds, vehicles, or other premises owned, leased or otherwise occupied or controlled by OCCC."
For more on OCCC Policy and Procedure, visit www.occc. edu/policy/pp.
To contact Sarah Hussain, email editor@occc.edu.