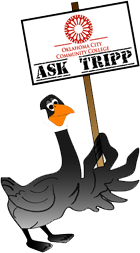 OCCC may not have a mascot, but a virtual goose named Tripp can help solve student problems. Want to meet him? Tripp is just a click away and always awake.
E-Student Services Director E.J. Warren said students can type in questions for Tripp and get quick answers. Ask Tripp is an online database that uses keywords to help students navigate around the OCCC website, Warren said.
Once students type in their question, she said, they are directed to links that will contain information related to the words they typed.
Warren said some of the most frequently asked questions are in regard to the academic calendar and dates that take high priority in a student's mind, such as spring break.
"We also will put the academic calendar on the spring break question so that you get spring break, but you'd also get the link to look at the academic calendar so you could see anything you wanted to see," she said.
"We try to anticipate a little bit of what information you might be looking for so when you put in your question or you put in the keywords, you could get multiple responses.
"We'll give you more than just one thing, because we want to make sure we get you what you might be looking for."
Warren said many different topics and questions are covered such as Academic Advising, the Child Development Center and Lab School, Financial Aid, Recruitment and Admissions, Records and Graduation and Student Life.
Other popular topics include class schedule and prerequisites, faculty advisers, Oklahoma money matters, and academic programs, she said.
If students have an in-depth question or one that has not already been answered, Tripp will create a custom answer and respond within 24 hours.
There is one thing Tripp cannot do — give personal information.
Warren said Tripp does not have access to student records, so students cannot ask about things such as their financial aid balance.
"We don't look at your student record to give an answer to that."
Warren said the original goal of Ask Tripp was to show the different departments on campus what type of information students wanted to know.
She said as the OCCC website becomes easier to navigate, there is less need for the friendly neighborhood goose.
" …It was initially set up to serve more of the division of Student Services so that we could find out what students needed to know that they weren't able to find," she said.
Warren said the goal of Ask Tripp is to teach students how to navigate the OCCC website at www.occc.edu more easily.
Ask Tripp should not be the resource, she said, but rather lead students to the resource.
Ask Tripp is located at http://occc.askadmissions.net/ask.aspx.