Oklahoma State Fair reaches out to college students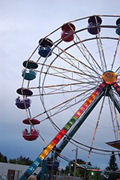 Photo Courtesy of Tasitch
The Oklahoma State Fair is reaching out to college students in the Oklahoma City metro wanting to make a difference.
Jill Sodowsky, a special program intern at the Oklahoma State Fair, said she thinks volunteering at the state fair is a great opportunity for college students.
"The Oklahoma State Fair is registered with the residential program board, which keeps track of volunteer hours," Sodowsky said.
Sodowsky said that it gives volunteers recognition for what they've done. She said there are three different shifts during the 11-day fair, which enables students to work at different times throughout the day, allowing them to work around their schedules.
"After four shifts, volunteers are given free admission and a parking pass for the remainder of the fair," she said.
While working at the fair, volunteers are given incentives including free T-shirts, special parking privileges and free gate admission before or after their shifts, according to the Oklahoma State Fair website.
In addition, volunteers who work at least four shifts are eligible to attend an annual awards banquet.
According to the website,volunteer positions include gate greeters, building hosts, vendor hospitality, guest services, Creation Station helpers, Disney on Ice attendants and assistants for the State Fair horse shows.
Orientation for volunteer training is Sept. 6 and 8, and all volunteers must attend in order to receive incentives, Sodwosky said.
The website says, although the fair takes place for only 11 days, volunteers enjoy year-round benefits from volunteering at the fair. Such benefits include social dinners, developmental opportunities, and an appreciation banquet in November.Early Bird registration for volunteers is the first Thursday in May, but volunteers can sign up anytime through Sept. 1.
According to a statement on the website , "Volunteer members are critical to the success of Oklahoma's State Fair each year, and their help is much needed and appreciated; Their faithful service is the backbone of the fair and, without them, it would not be possible to provide the level of hospitality, educational programs and children's services to our guests, that Oklahoma State Fair is known for."
Students can get involved by registering online at the State Fair's website , www.okstatefair.com.
To contact Jozette Massiah, email onlineeditor@occc.edu.