OKC Energy FC Victorious in Home Opener
By Ryan Chapman, Sports Editor
Oklahoma City Energy FC emerged victorious on a chilly Saturday night, notching a 2-1 victory over Las Vegas Lights FC in their home opener. Omar Gordon's 78th minute goal proved the difference as he secured all three points for the Greens.
Deshorn Brown opened the scoring for Oklahoma City in the 13th minute. Brown made a run behind Las Vegas's defense and was played in by teammate Alexy Bosetti, where Brown easily slotted the ball past the keeper into the upper right corner of the goal. The goal marked Brown's third goal already just two games into the season.
Eric Wynalda's Las Vegas side leveled the game after the break, as midfielder Pablo Cruz whipped his corner into the box and found defender Javan Torre, whose front post header beat Energy goalkeeper, Cody Laurendi. Torre's 58th minute goal looked to turn the tide, as Las Vegas enjoyed large spells of possession to open the second half.
Gordon played hero for the Energy late. Cordell Cato played a through ball, connecting with Gordon's run, who finessed his shot into the back post as he was falling away from the goal.
Gordon and Brown were both essential pressure release valves for the Energy, as Oklahoma City spent most of the night soaking up pressure from Vegas. Once in possession however, the Energy counter-attack sprung with blistering pace as they looked for Gordon and Brown to stretch the Las Vegas defense.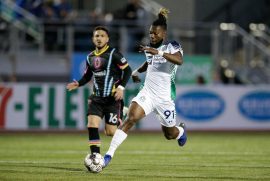 The late winner from Gordon capped off his man of the match performance, as he was a menace for Las Vegas to deal with down the right flank all night.
The Energy withstood a physical game, where they were fouled by Las Vegas 17 times and they fouled the Lights 15 times.
Oklahoma City asserted themselves down the stretch, as they dominated possession over the last 15 minutes of the match, breaking the Vegas press more consistently, punctuated by Brown's winning goal on the counter attack.
Oklahoma City, winners of two straight, look to continue their positive run to kickoff their 2019 campaign as they now head on the road to Sacramento next Sunday to face Sacramento Republic FC.
Thumbnail photo courtesy of Steven Christy Photography.