OKC Downs Utah 107-99, Game 6 Set For Friday
Game five against the Utah Jazz was "now or never" for the Oklahoma City Thunder, meaning another loss would eliminate them from the playoffs.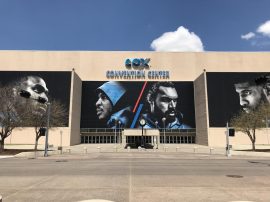 The Thunder beat Utah 107-99. OKC took the lead after being down 25 points in the third quarter, having Thunder fans worried when they would come back or if they would. It was 71-46.
OKC achieved another record for the books — it was the third biggest comeback in NBA playoff history.
"One of the best game I've been a part of, regular playoffs or regular season," said Carmelo Anthony. "To come back they way we did today, just tells you about our team and the type of group that we have."
Paul George scored 34 points, adding that the team never quit. "You play until there's nothing on the clock," he said.
Russell Westbrook scored an amazing 45 points, eventually tying the game 78-78 with a three-pointer in the last seconds of the third quarter. The Thunder would then take the lead for the rest of the fourth.
"Everyone here in Oklahoma was behind us, and you know, we needed every bit of it tonight," he said.
Game five was home in Oklahoma City, an advantage and energy the Thunder desperately needed, being down 3-1 in the series against Utah.
"I've been in the league 13 years, and it's probably one of the most amazing games that I've ever been a part of," said guard Raymond Felton. "That feeling, that atmosphere, the crowd was amazing, from the third quarter on, I don't think nobody sat out. We was just all in the game."
Head coach Billy Donovan gave the team a lot of credit for the way they performed despite the odds against them.
"I think it took a lot of toughness, a lot of resiliency, especially being down 3-1 to keep fighting and find a way at the end of the third to be right there in the the game."
Monday night was game four between the Oklahoma City Thunder and Utah. The Thunder had suffered another loss 113-96.
"The first half I thought we played really good basketball on both ends of the floor," said head coach Billy Donovan. "We had some possessions where we missed some shots and it kind of snowballed from there. Midway through the third quarter we had dug ourselves a hole and we were trying to fight ourselves out."
Paul George lead the team in scoring that night with 32 points, and was aggressive on the floor with Utah's Joe Ingles.
"It's playoff basketball," George said. "It's just gonna get chippy. It's gonna get physical. We're in it for the fight."
The Thunder head back to Salt Lake City Friday for Game 6 in the series. You can catch it on Fox Sports Oklahoma or ESPN at 9:30PM.