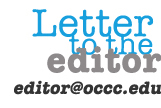 To the Editor:
As an animal advocate, I'm happy to see a new trend in the state — the Trap-Neuter-Return program for feral cats.
The program, already being used by Oklahoma City Animal Shelter and Midwest City Animal Welfare, operates on the premise that euthanizing feral cats, protected under the state's anti-cruelty laws, serves no good purpose.
"Animal control's endless, cruel cycle is extremely costly to taxpayers," according to a handout from MCAW.
"Feral cats needs are not being met by our current animal control and shelter system, because animals who are not adoptable are killed. Feral cats live outside but are killed in shelters. Even no-kill shelters are not able to place feral cats."
Midwest City's shelter staff stresses that feral cats pose no threat to humans or wildlife.
"Feral cats are just as healthy as pet cats. The incidence of disease is just as low as in pet cats. They live healthy, natural lives on their own, content in their outdoor home.
"Studies show that the overwhelming cause of wildlife depletion is destruction of natural habitat due to man-made structures, chemical pollution, pesticides and drought — not feral cats.
"Trap-Neuter-Return does work. (It means) no more kittens. The population stabilizes and their lives are improved. The behaviors and stresses associated with mating, such as yowling or fighting, stop.
"The cats (also)are vaccinated before being returned to their outdoor homes.
"Not only does Trap-Neuter-Return make good sense, it also is a responsible, humane method of care for outdoor cats."
Feral cats don't belong in shelters. They deserve a long, happy life just as any other animal. Please educate others about this program and consider making a donation to the Central OK Humane Society to help ensure all animals get a fair chance at life.
And pet owners, spay and neuter your domesticated animals as well. Shelters already are full of fur babies in need of forever homes.
For more information or to donate, visit www.okhumane.org/tnr.
To contact Ronna Austin, email onlineeditor@occc.edu