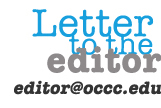 To the editor:
"As much as 10 percent of the U.S. workforce will get the flu this year, with 17 million workdays lost as a result," said State Health Commissioner Dr. Terry Cline.
"Receiving a flu vaccination from your local county health department, your physician, or any of the many places flu shots are available, is absolutely the best way for Oklahomans and their families to stay healthy this winter."
The flu vaccine is recommended for everyone 6 months of age and older. Persons at high risk of serious complications from flu are strongly encouraged to get a flu shot, including pregnant women and people with asthma, diabetes, chronic heart and lung disease, or other chronic conditions.
Parents and family members of babies younger than 6 months of age and people who live with or care for anyone at high risk for complications from the flu, including health care workers, should also get the vaccine.
Vaccine protection declines over time, so an annual vaccine is needed to assure the best protection.
For more information, call your local county health department or visit the Oklahoma State Department of Health website at www.health.ok.gov.
—Oklahoma State
Health Department