Of Mice and Men
Summary:
Sadder than watching someone shoot your dog.
I rarely go to the theater. It does not usually occur to me to seek out a theatrical production, but I typically enjoy the experience when I get roped into going by a friend.
When I got invited to see "Of Mice and Men" performed by the OKC Theatre Company, I figured why not? Though I had never read "Of Mice and Men," I was familiar with John Steinbeck's work. It is extremely well suited to adaptation for the stage.
Steinbeck's writing conjures vivid images of place and time in the mind of the reader. His studied use of colloquial language has drawn attempts at censorship for being offensive, even racist, but anyone who reads it realizes that Steinbeck employs language to portray a historical moment — often the Great Depression — not to offend. His sympathy and respect for the oppressed and downtrodden is evident.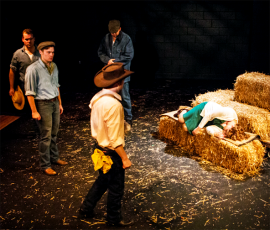 Minimal sets and the small size of the CitySpace Theatre, located in the basement of the Oklahoma City Civic Center Music Hall, did not detract from the performance. Rather, it provided a sense of immediacy, putting the focus on the characters' interactions and circumstances.
The poverty and desperation make conflict inevitable and heartbreaking between characters so closely confined.
The main characters, Lennie and George — played capably by Glen Hallstrom and Michael Waugh — bicker over the ketchup they don't have to go with the canned beans that is their only dinner.
The harsh reality is movingly portrayed in a scene where one ranch hand, Carlson, feels justified in his insistence to put down another man's dog because the smell of the blind, lame, old animal is preventing everyone in the bunkhouse from sleeping.
After the show, we saw the actor who played Carlson, Clayton Blair, leaving the theater with the dog on a leash. He smiled when he saw us and said "The fucked up thing is, it's my dog."
Compared to other small productions, this was an excellent show. Unfortunately, "Of Mice and Men" ended its run Sept. 20, but OKC Theatre Company has a full season lined up. You can check it out at www.okctheatrecompany.org.