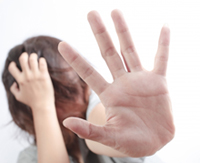 Nutdanai Apikhomboonwaroot/
FreeDigitalPhotos.net
What comes to mind when you think about October? Grinning jack-o'-lanterns, bucket loads of candy, or perhaps a black cat or two?
With Halloween right around the corner, it's easy to get caught up in the witching hour. But this month also represents something much scarier than ghosts and goblins: domestic violence.
Since 1987, October has served as Domestic Violence Awareness month, according to the website at dvam.vawnet.org.
Domestic violence is a "cycle of violence that a perpetrator uses against a person to maintain power and control," said Sunshine Gross, assistant executive director for the Oklahoma Coalition Against Domestic Violence and Sexual Assault.
When you think of violence, Gross said, it's easy for images of physical altercations to spring to mind.
However, she said, domestic violence goes much deeper than that.
"Domestic violence can also be emotional, mental, psychological, sexual, spiritual, [or] social," Gross said.
She said fear is the most telling sign of abusive relationships.
"If you constantly watch what you say and do in order to avoid a blow-up with your partner, chances are your relationship is abusive and unhealthy," Gross said.
Abusers are also very controlling, she said."They won't let their partners see family or friends, and they are jealous and possessive," Gross said. "They will minimize violence. They will either blame the victim or deny it altogether."
Most victims of domestic violence will leave their tormentor five to seven times before leaving for good, according to dvam.vawnet.org.
That makes helping victims difficult for friends and family on the outside looking in.
"If a person's not ready to leave, there's nothing you can do except let them know you're there and that you care for them," Gross said.
She said the best way to help victims of domestic violence is letting them know what resources are out there if they need anyone to talk to or are ready to leave.
Those resources include the National Domestic Violence Hotline, which can be reached by calling 1-800-799-SAFE (7233.) Victims who have access to a safe computer can also visit the corresponding website at www.thehotline.org.
Getting help can be especially difficult for men, who account for 15 percent of the 33 million Americans affected by domestic violence, Gross said.
"Society makes it harder for them," she said. "Certain cultures condemn male victims as being weak or as being sissies.
"They aren't often taken seriously as being victimized, but that doesn't make the abuse any less real."
Even when victims are ready to speak up, it can be difficult to find a safe place to do so.
Abused students in need of help, should look no further than OCCC's own Student Support Services, where they can meet discreetly and confidentially with an on-campus counselor.
One of those counselors, Jenna Howard, said Student Support Services offers a safe place for students in abusive relationships to get help.
"All the information we take is locked in the counselor's office," Howard said. "It's not part of student records — it's a clinical file. We're licensed therapists, so it's just like going to a licensed therapist in the community. Our notes are confidential as well."
She said Student Support Services offers short-term counseling, where students can get immediate help before being referred out to community organizations like the YWCA.
"They can come talk to us first and we can work with them on their options," Howard said. "Sometimes, we help with an emergency plan."
Emergency plans are created for victims who might not be ready to leave, but need to have a plan in place if the situation escalates, she said.
Howard said some people look at victims of domestic violence and ask, "Why don't you just leave?"The solution is not that easy, she said.
"It's a process," Howard said. They have a bond with that person. It's really hard to do."
Because victims of domestic violence often feel helpless, she said, one of the counselors' goals is to help them feel empowered again.
"We help them look at different options, but we let them decide what's best for them and their families," Howard said.
Student Support Services is open 8 a.m. to 8 p.m. Mondays through Thursdays, and 8 a.m. to 5 p.m. Fridays.
Students can either make an appointment by calling 405-682-7520 or simply walk into the office during its hours of operation.
Howard said students usually see a counselor within a day.
"Our hope is for people to know, if something is going on, they can talk to someone — not just hope it's going to go away, because it could get worse," she said.
"People can lose their lives. It can get worse, and your life is much more important than a relationship."
For more information about domestic violence, call the OCADVSA at 405-524-0700.
In addition, victims of domestic abuse can call the Oklahoma domestic abuse hotline at 405-917-9922 or the Oklahoma Safeline at 1-800-522-7233.
To contact Whitney Knight,
email onlineeditor@occc.edu