Oct. 21 interactive workshop to focus on water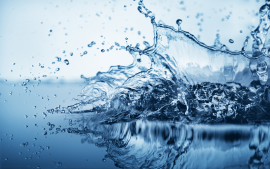 Finding workable solutions to bringing safe drinking water to the millions of people who don't have it will be the focus of English Professor Angela Cotner's speech on water and ethics at noon Wednesday, Oct. 21, in room CU3. Her presentation is part of the OCCC Reads program.
"There are 1.2 billion people without access to clean water," Cotner said.
Cotner said she plans to speak about ethical theories and have the audience look at a scenario and come up with a solution to the problem.
"So it is going to be more like an interactive workshop than a lecture," she said.
Cotner said she will discuss one water issue in the U.S. and one in a developing country.
"What I hope students take away is, we can't keep doing what we're doing and get a different result," Cotner said.
"We need to think through different ways of solving problems."
Reference Librarian Tricia Sweany said libraries across the U.S. participate in this reading program designed to bring the community together to discuss a particular book.
Sweany said OCCC has been participating in this program for seven years and this year's book, "Water Matters: Why We Need to Act Now to Save Our Most Critical Resource" was picked with a purpose in mind.
"We wanted a book where the college and individuals could take action to help the planet," Sweany said.
Cotner said different chapters of "Water Matters" have been assigned to different professors to speak on, and since she teaches an ethics class, the topic is a natural fit for her.
She has a particular interest in water issues because her husband worked as executive director for an organization called Water4 that trains people on how to drill hand-dug water wells in developing countries in Africa and South America.
Cotner said she traveled with her husband to Uganda, Africa, and personally saw where one community got its water.
"It was a hole in the ground with water that we would not even step through because it was so gross," she said.
Cotner believes the water issue is well known, yet not much is happening to fix the problem.
"I think we all know what the problems are, but we don't agree on the solutions,"she said.
The solution must be thoroughly thought out, because there are ethical factors that go into providing clean water for communities, Cotner said.
For example, in developing countries, people gather water every day at a central meeting place.
Finding a solution that keeps that community fellowship time is important.
"Of course, it is a good idea to give people access to clean water, but you could destroy the community."
Cotner said she has been at OCCC full time since 2010, but started here as an adjunct professor in 2003.
She said helping students to think critically is one of her favorite things about teaching.
Memorizing definitions is not important, but learning how to solve problems, ask the right questions and think critically is, Cotner said.
"Critical thinking skills can be applied to anything, but content cannot," she said.
Sweaney said students can pick up a free copy of "Water Matters" at the front desk of the library.
For more information, contact Cotner at acotner@occc.edu and Sweany tricia.l.sweany@occc.edu.