OCCC welcomes international students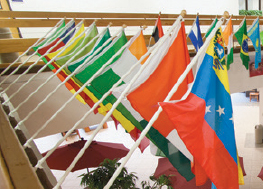 Oklahoma City Community College's second annual welcome reception was held Aug. 25. More than 30 foreign students and many members of staff and faculty participated.
International students have been an essential part of OCCC's community in terms of providing a diverse culture and broad knowledge from other countries around the world, school officials said.
OCCC President Jerry Steward said he decided to establish the event for all new and returning foreign students to help them feel comfortable and welcome on campus. He said the reception is a chance to let study-abroad students know that OCCC really cares about their success in education as well as in life.
"I want each of you to know that international students have a special place in my heart. You are always welcome to my office, or you can come by and say 'Hello'," he said.
Steward's wife, Tammy, also shared her support of international students.
"Welcome to all of the students here at OCCC," she said. "It really does mean a lot to us that you are here. We want you to feel welcome."
President Steward said some people have a wrong perception when valuing foreign students for the amount of money that they bring into America for studying and spending. "I believe that having them on our campus really gives the American students the opportunity to learn about the world from a different angle," he said.
International Student Services Associate Director Julia Bay agreed.
"If you want to talk about international students' struggles, that is something that we can have a deep conversation about over a long period of time," she said.
Bay said among the problems of living in a brand new country, homesickness seems to be the hardest. It could take international students anywhere from six months to two years to get over it.
She said the event offers many benefits to the college and the students.
"We want all of the international students to know that they are a part of OCCC and that they can feel welcome," she said.
Computer Science professor Haifeng Ji, who is also a sponsor for the International Student Association the reception gives international students the opportunity to meet and talk with the college president.
Ji said it brings the ISA an opportunity to promote and inform students about the club to the international students in the event.