OCCC teams with AutismOklahoma for 'Even In Death'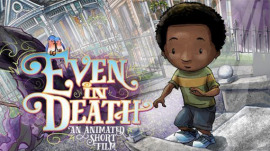 An Oklahoma program that trains those with forms of autism to work in the film industry screened their much-talked-about animation recently.
AutismOklahoma's Invisible Layers Productions hosted the premier of their short film "Even in Death" at OCCC's Performing Arts Theater.
Over 220 viewers were in attendance to see the movie, including OCCC interns who worked on the production.  
The film has has been in production since last summer, said Sarah Lauffenburger, an OCCC student intern with Invisible Layers and their assistant arts coordinator.
Invisible Layers Productions is a pre-employment program by AutismOklahoma that focuses on training people who are on the autism spectrum in video and film production techniques.  
Autism spectrum disorder is a serious developmental disorder that impairs the ability to communicate and interact, according to the Mayo Clinic.
The 19 creators of the film, 15 of whom are on the autism spectrum, arrived on campus in limos and walked the red carpet while having their pictures taken, said Alicia Clark, the director of volunteers at AutismOklahoma.
Lauffenburger described the experience as Oscar-esque.
"The crowd was cool. There wasn't really any rotten tomatoes," said Laffenburger. "It went better than anyone expected."
Attendees were also able to purchase art pieces in the lobby created at AutismOklahoma's art summer camp called Swanky, Clark said.
"Even in Death" won Best Oklahoma Short in the deadCENTER film festival.
Lauffenburger said they hope to enter the movie in more film festivals in the future.