OCCC students speak out on healthcare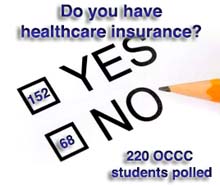 With the passage of the Affordable Care Act, most Americans are now required to maintain health care coverage.
This will be the first year that Americans who are able to afford health care but have chosen not to purchase it will be penalized with government fines under what's referred to as the "individual mandate."
In a recent poll of 220 OCCC students, 31 percent said they have no healthcare insurance.
"I have four kids and it's just too expensive," said Allied health major Tania Lebron.
Lebron said if she or her children get sick, she goes to the clinic and pays out of pocket.
Biology major Dakota Arms said he has healthcare provided through his parents.
"After I don't qualify for coverage under my parents, I plan on buying my own healthcare," Arms said.
Haley Bremerman and Michele Estep, both nursing majors, said they have insurance through their parents.
"Hopefully when I graduate and get a job, those benefits will come through," Estep said on what her plans will be for future health care.
Open enrollment for health care coverage through the government health care marketplace in 2015 has closed.
For those who do not have health coverage yet, there may still be the option to be covered under Medicaid or other programs or they may qualify to enroll through the marketplace's Special Enrollment Period. Individuals can sign up for informational email updates at www.healthcare.gov.
Student Support Services Director Lisa Fisher said while OCCC provides a number of services for its students, helping them procure healthcare coverage is not one.
"We don't have specific information about health care — not that's handed out through our office."
However, she said, Student Support Services does put out a Community Resource Guide to help point students toward various types of useful off-campus resources.
"There's information about healthcare and prescriptions available in the community," she said.
She said students may qualify for the Sentry Student Security Plan, a health insurance plan enumerated in the Resource Guide but not officially endorsed in any way by Student Support Services.
The Resource Guide is available at www.occc.edu/support/Community.html.  It refers students to local services covering a spectrum of needs from adoption to gambling treatment.
Among the services listed are multiple healthcare options.
Student Support Services is on the first floor of the Main Building. To contact the office, email sss@occc.edu or call 405-682-7520.
To find out more about the Affordable Care Act, visit www.healthcare.gov.
To contact Jorge Krzyzaniak, email seniorwriter@occc.edu
---
"The Supreme Court ruling on the Affordable Care Act (ACA) allowed states to opt out of the law's Medicaid expansion, leaving each state's decision to participate in the hands of the nation's governors and state leaders. "The Daily Briefing and American Health Line editorial teams have tracked where each state stands on the issue since the ruling, combing through lawmakers' statements, press releases and media coverage. In this latest iteration of our Medicaid map, we've determined each state's position based on legislative or executive actions to expand coverage to low-income residents using ACA funding." —www.advisory.com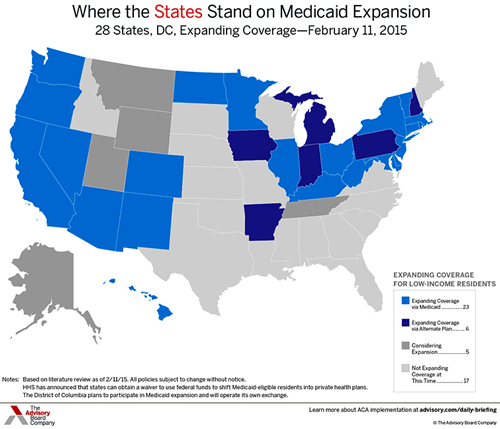 ---
Affordable Care Act FACTS
— In March of 2015, it will have been five years since the Patient Protection and Affordable Care Act was signed into law.
— The full language of the law is viewable online at  http://housedocs.house.gov/energycommerce/ppacacon.pdf.
— The ACA is 955 pages long as it was approved by Congress and signed into law by President Barack Obama on March 23, 2010.
— Recognized perhaps more by its nickname "Obamacare," the merits of the law have been widely debated and attempts for a total repeal of the Affordable Care Act have been made in every congressional session since its passage.
— A White House Fact Sheet reveals that the Affordable Care Act has decreased the number of uninsured Americans.
— Millions have signed up for coverage through the Health Insurance Marketplace at www.healthcare.gov/get-coverage, and three million young adults have been covered through the resulting extended coverage of their parents' plans.
— Since passage of the Affordable Care Act, Americans can no longer be dropped from their coverage because of pre-existing conditions or because of lifetime or annual caps in benefits. This is a tenet of the act that went into effect immediately once it was signed into law.
—The Affordable Care Act has benefitted the existing coverage of millions of Americans, allowing them to access preventative services like cancer screenings and vaccines without incurring any out-of-pocket costs.
— The Health Insurance Marketplace has put more insurance plan options in one place, providing Americans the opportunity to compare more coverage options before committing to buy.
— Under the Affordable Care Act, all Americans who are able to afford health insurance but choose not to, must qualify for an exemption or pay a fine.
— Information about qualifying and applying for exemptions is available at www.healthcare.gov/fees-exemptions/exemptions-from-the-fee.