OCCC stars prepare for talent show fundraiser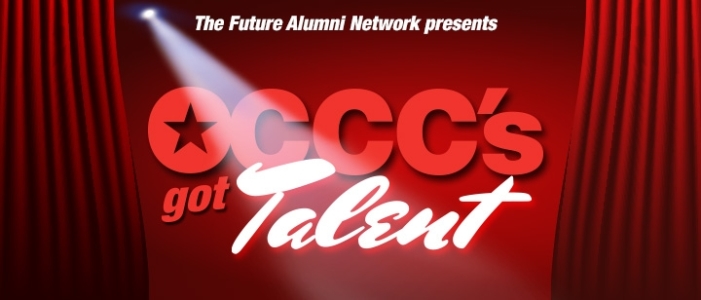 Choreographed hip-hop and pop-and-lock dance moves are on the agenda for Thursday, April 14, as students and staff alike perform in the third annual OCCC's Got Talent show from 7 to 9 p.m.
The Future Alumni Network, also referred to as the FAN club, is sponsoring the third annual talent show in the Visual Performing Arts Center Theater, said Randy Cassimus, Alumni Relations coordinator and adviser to the club.
"The show has been moved to the VPAC Theater after the crowd overflowed the smaller Bruce Owen Theater last year," Cassimus said.
Tickets are on sale now, and will be until the night of the show, Cassimus said. Tickets can be purchased for $8 before the show and $10 at the door. Tickets may also be purchased online for $11. All proceeds from ticket sales go towards the OCCC Alumni and  Friends scholarship.
The celebrity judging panel for this year's show is comprised of: John Humphrey, drummer from the rock band Seether and member of the OCCC Alumni Hall of Fame; Michelle Swink, owner and operator of the MAGNA Talent Agency in Oklahoma City; Alex Cameron, anchor and reporter for KWTV News 9; and Amanda Cunningham, singer-songwriter who performs regularly throughout the Midwest.
The show consists of 21 contestants, all students and faculty, Cassimus said. They range from Elena Figueroa, on classical piano, to Fab2Era (Lionel and Lionard Fombe) performing Choreographed Hip-hop Dance.
Broadcast journalism major Grace Babb said she will be performing in the show with her group, Annie Oakley.  Babb has been a singer and songwriter for the last four years, although she is still in high school and takes concurrent classes at OCCC.
"I am really excited," she said about being selected for the talent show. "My entire band goes to OCCC as well."
Annie Oakley consists of herself, her twin sister, Sophia Babb, playing the guitar, and Nia Personette on violin. The group has become well known for their iconic Americana sound over the last few years. She is hopeful of winning the $300 grand prize.
"But just performing is fun all the same," Babb said. "It's cool to be able to do this, and be involved with OCCC."
For all performers that need the extra push to put themselves forward, Babb has some advice.
"Take a chance," she said. "You never know what will happen."
Besides the grand-prize winner, Cassimus said, there will be second and third place prizes. The winner of the fundraiser portion wins $300, and the People's Choice Award winner takes home $150.
Last year's talent show winner Stephen Salewon will be making a guest appearance at the show by request. He will be playing some fast and bluesy songs accompanied by a bassist.
Cassimus said previous grand prize winners are no longer eligible to enter the competition.
Salewon said the talent show was a positive experience for him.
"I got to meet very talented musicians and build some connections," he said.
He suggests for all first-time performers "have fun with it, and learn from it."
"It's a building block for new events," Salewon said.
For more information about OCCC's Got Talent, contact Cassimus at 405-682-1611, ext. 7478, or john.r.cassimus@occc.edu
In addition to Annie Oakley, Fab2Era and Elena Figueroa, the audience will see performances from Yovan Brindou, Ryan Caster, Kassidy Evans, , Miranda Garretson, Sir1Bee & T.A., Darla Kaye, Alisa King, Maryam Knowles, Trenton Larkin, Melissa Sue Lopez, M.O.B.S., Andrew May, Ahmed Rashid, Buffalo Rogers,  Daisy Swift,  John Taylor, Andria Wallen, and Georgia Wood.
For more information about OCCC's Got Talent, contact Cassimus at 405-682-1611, ext. 7478, or john.r.cassimus@occc.edu.