OCCC security office switching to police force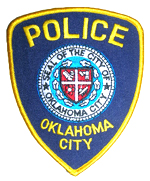 By next July, OCCC should have a police department in place, working in tandem with campus security officers, said John Boyd, Business and Finance vice president.
The college will take a year to transition from a campus security force to a police force, Boyd said.
However, he said, the campus will retain a security force.
"It is the intent of the college to operate what we call a blended operation, consisting of both police officers, and safety and security officers," Boyd said.
An important difference is that campus police officers will be able to make arrests, he said.
"The difference is in the level of law enforcement they can engage in," Boyd said. "Currently, our security force cannot enforce laws, but our police force will be able to enforce Oklahoma criminal laws and statutes.
"Currently, our security officers can only enforce rules and regulations."
Boyd said the discussion of whether to go to a police force has been ongoing for several years.
"Our goal is to have a chief of police on board no later than Dec. 1," Boyd said. "It will then be up to the chief of police to complete the transition.
"Our goal is to have the transition complete on or before July 2011," he said.
Boyd said the number of officers on campus would be about the same as it currently is, and that the combined security and police forces would be equivalent to the college's current security staffing plan.
A campus police force comes with a bigger price tag, he said.
"The cost of operating a police force is higher than operating a security force.
"The campus police will have to be [Council on Law Enforcement Education and Training] certified and the security officers will not." Boyd said.
Boyd said CLEET is an extensive state law enforcement certification which entails yearly updated training.
Student reaction to this change has been mixed.
"If there were an emergency situation, I would be more comfortable with a police force than a security force," said Jessika Kulhanek, public relations major.
Heather Kelpine, sociology major, agrees.
"If you're not doing anything wrong there shouldn't be an issue with [police officers] being here," said
Zach Houston, art major, said he believes it will be helpful to have a police presence on campus, especially after an incident last spring where it was believed a shooter was on campus.
"It is probably a good thing because of the incident last year," Houston said. "It will ensure our safety more."
Anatolii Soloshonok had a different point of view.
"This is a learning institution and I don't think that police officers make for a good learning environment," he said.
Ike Sloas, Safety and Security director, declined comment.
Senior Writer Christian Kosted can be reached at seniorwriter@occc.edu.