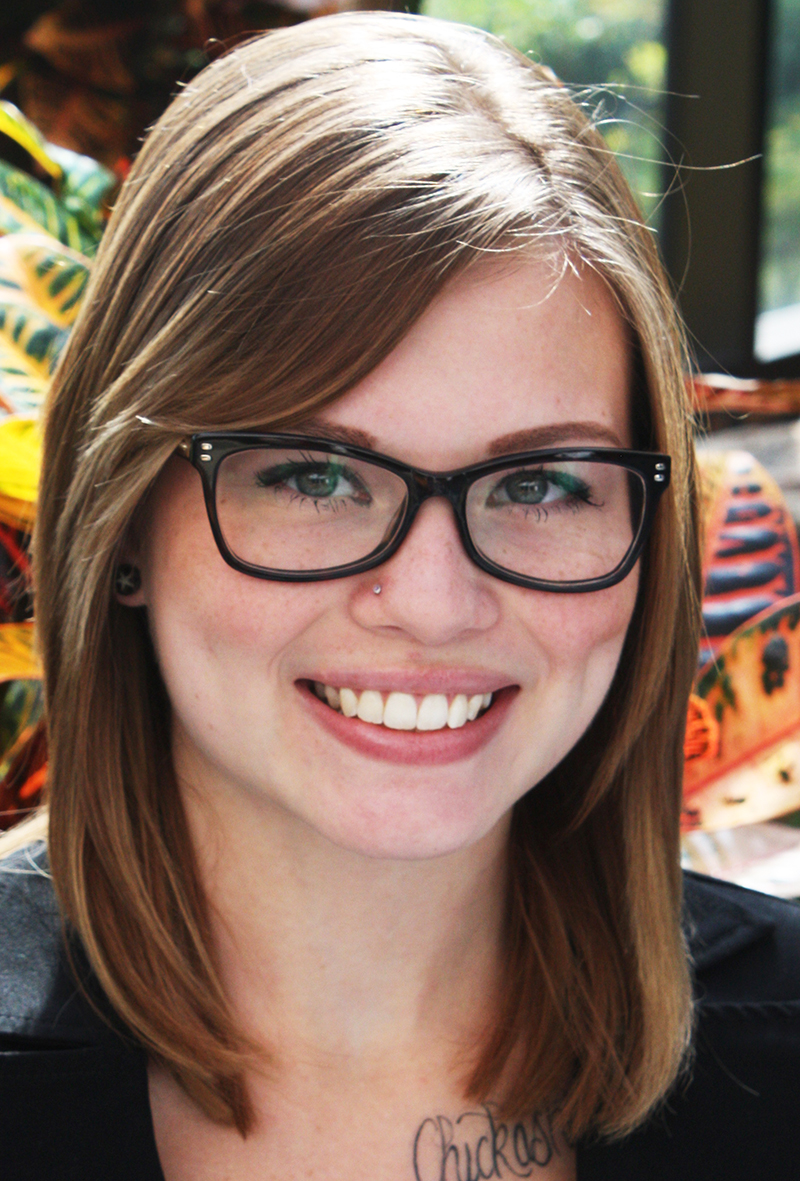 Junior student and OCCC Pioneer Lab Assistant Paris Burris has been chosen for three journalism internships already in her academic career. She offered advice to students April 10 on how she has cultivated a network to help her reach her goals.
With internships, she said, start early, apply often, and do not sell yourself short.
"Look to those who inspire you and get motivated," Burris told the evening News Writing class.
Burris had an internship with the Bureau of Indian Affairs in Washington, D.C. in the summer 2013.
This spring semester she is interning at the state Capitol with the Journal Record Legislative Report.
In the summer she will be with The Oklahoman.
Many people have the mindset of getting into college and then after college finding a job. Burris believes that is a delusion.
"In college, especially in the field of journalism, employers look for people who have experience already," Burris said. "They look to hire those that are already interning for them."
Though graduating college is a definite plus, experience with a degree is better.
"Having experience is sure to give you an edge over those who don't," Burris said. She also said that, for journalism majors, working for student media is the best path to take to resonate success in the future.
Student media experience is attractive to newspapers looking for interns.
"Look at websites to find internships," Burris said. For journalists, Burris suggested websites like "JournalismJobs.com" or OKpress.com." The main thing when applying for internships is not to let inexperience deter you.
"Inexperience is something that might discourage you, but you shouldn't let it," Burris said.
Burris stressed the importance of networking when finding internships as well.
She noted that her connections in the media field have helped her.
"I didn't even apply to my (Oklahoman) summer internship," she said. "People called me because they knew me."
Burris received her first internship through networking as well.
"I am a part of the Chickasaw tribe and they got me my first internship working in Washington, D.C.," Burris said.
Burris recommends speaking with professors and advisers to find out about opportunities, as they know a lot of jobs and internships that are open and waiting.
Burris also recommends being "picky, but not too picky" when applying for internships.
"While some people take unpaid internships and become successful," Burris said, "I believe that if I am going to work, I should be paid."
Forward thinking is the key to success.
"If it's fall, you should already be thinking about what you're going to be doing in the spring and in the summer," Burris said.
Lots of application deadlines are way earlier than when the actual internship starts, so students must be timely when applying.
"The Daily Oklahoman looks for summer interns in the fall and the deadline is in November," Burris said.
While students can become immersed in the college atmosphere, it's all about what students will do after college as a career.
"There is not a better time to build experience than now," Burris said. Internships are a great way to start building experience and knowledge about your specific work field.
After her presentation, Burris said, she would be driving to the University of Oklahoma campus in Norman to attend a meet-and-greet session at the student newspaper office, sponsored by the student chapter of the Society of Professional Journalists.
Burris plans to attend OU in the fall for her bachelor's degree in Journalism and work for the OU Daily.