OCCC marks 40 years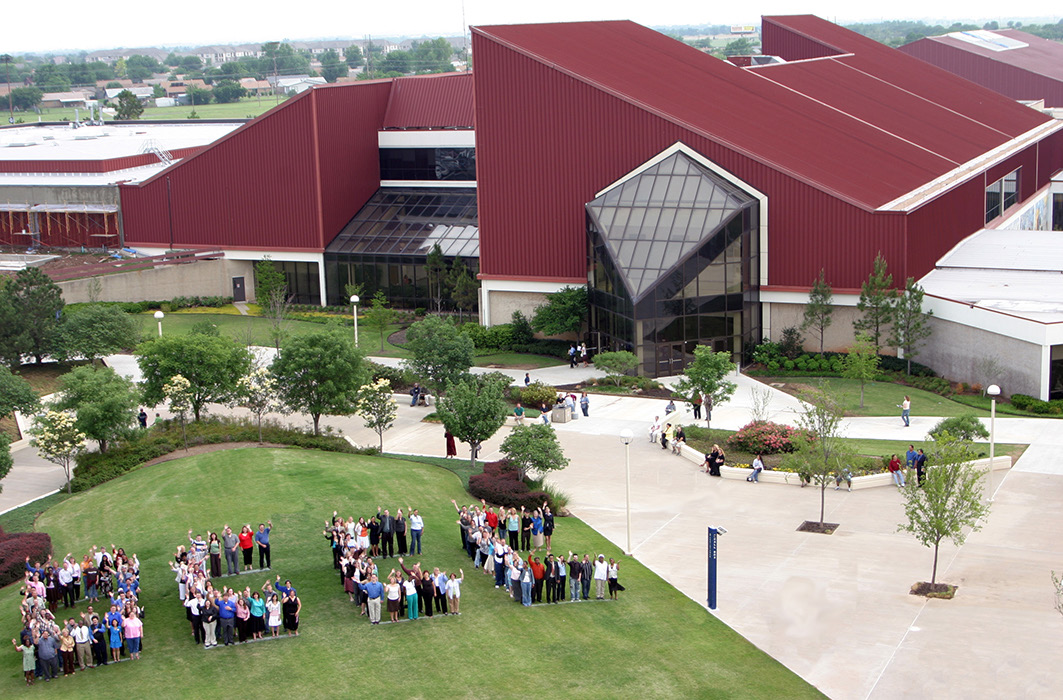 From its start as a small junior college serving non-traditional students with night classes to being the fourth largest college in the state by annual enrollment numbers, OCCC has changed a lot in 40 years, said OCCC President Paul Sechrist.
Sechrist said he believes the biggest change over the last four decades is the increase in scale of the college.
"In 1972, the first year, the college had one building and a fall enrollment of just over 1,000 students," he said. "Today the campus is a campus of many buildings and this fall, the enrollment will be well over 14,000 students."
He said the large number of students enrolled annually is unusual for a community college "with only one campus."
"There are definitely community colleges with larger enrollment numbers," he said. "But their numbers are spread out over several campus facilities, with maybe 5,000 to 6,000 students per campus."
The president's Executive Administrative Assistant Janice Phillips offered another view of how the college has changed. She said she believes the biggest change is the level of recognition accorded OCCC.
"It used to be that we were just that school on the southside that looked like a barn," Phillips said. "Today, we've gained the respect of not only our local community but also a broader perspective [of recognition] of all of Oklahoma City, of the state of Oklahoma, and even a perspective of national recognition for the quality education and institution that we have."
Phillips also said that while she enjoys the growth OCCC has experienced, she misses the small-school environment.
"I know it's impossible, but if I could wiggle my nose and bring something back from the college's past, it would be that intimacy of everyone knowing everyone."
Journalism and English professor Sue Hinton said she believes the growth has also necessitated a cooling of the idealism the college started with.
"When we began, we were out to change the world. We're still doing that, but it's less by that one-on-one, relaxed environment and more by process," she said. "I can't say the processes always work perfectly, but we help a lot more students today. To keep going, to help more and more people, we had to grow up as an institution."
Sechrist said he believes that while the idealism may not be as strong as it once was, the spirit of dedication and commitment it gave rise to continues to be the driving force behind the college's mission. He said he sees that commitment most strongly in the reactions of students.
"A student that has a good GPA, good grades, and studies well can come into OCCC and succeed. And that's great," he said."But what really motivates me, what gets me out of bed in the morning, every morning, is the students who come here and haven't been academically successful before.
"The students who don't know they can do this, who don't know they can succeed. And our faculty and staff work with them, and encourage them and show them talents they never knew they had."
Hinton said if she could bring anything back, it would be a program she feels was a hallmark of the old idealism.
"We used to have an outreach program to inmates in prison. We wanted to make the world a better place, and we felt … that if we could educate these inmates, they'd be able to get good jobs. We felt it could lower recidivism."
She said the program was cut after federal financial aid stopped being available to inmates in the 1990s. While she understands the lack of funding makes it impossible, "that's what I wish we could bring back."
But, Hinton said, it's too easy to fall into the trap of "thinking the golden days are behind us."
"Yes, we've had to change to using more systems and processes, and we've lost that sense of intimacy.
"These days, I don't think any of us know everyone who works here and it's getting to the point where it can be hard to know everyone in your own department. But we help more students. I look around and we've never had facilities this good. We've never had equipment of this quality.
"We've lost some and gained some, but the golden days are still here."
To contact Jeremy Cloud, email communitywriter@occc.edu.