OCCC looking for talented people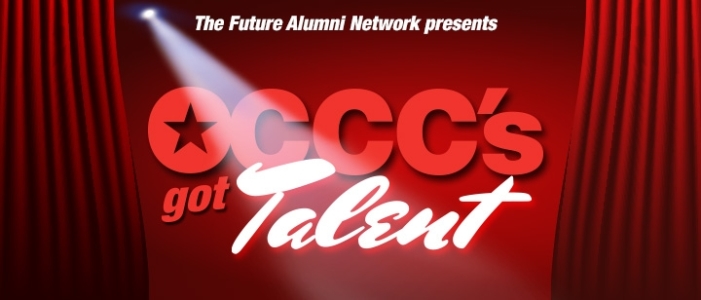 If you sing in the shower, strum air-guitar or dance like no one is watching, OCCC's Got Talent is looking for you.
The Future Alumni Network, also known as the FAN Club, is sponsoring a talent contest on May 7 in the Bruce Owen Theater.
"OCCC's Got Talent is a spring fundraiser [for the OCCC Foundation Scholarship Fund] … ," said Randy Cassimus, Alumni Relations coordinator.
"It's a talent show that is open to students, faculty, staff and graduates.
"It's an opportunity for any of the [contestants] to win some pretty fabulous cash prizes."
Cassimus said contestants can audition for OCCC's Got Talent by visiting www.occc.edu/talent.
He said the deadline for the online application is March 30.
"We're really excited because we think it's going to appeal to the entire OCCC family," Cassimus said. "We're encouraging any and all to enter."
Cassimus said he encourages all acts to audition, including singers, dancers and comedians. He said the performances can consist of anything as long as it adheres to the regulations found on the OCCC's Got Talent webpage.
Some OCCC students expressed excitement at the opportunity to display their talents.
"I didn't know we were having a talent show," said public relations major Carlton Thompson.
"I might enter. I might play drums. I've been playing drums since I was in the sixth grade … . Now I play for the Oklahoma City Thunder Drummers."
"I've played marching snare for a long time," he said.
Theater major Alexis Ward said she would sing if she were selected to compete in OCCC's Got Talent. "'Almost is Never Enough' (by Ariana Grande) would be my song of choice," she said.
Business marketing major Zachary Williams said he would sing a soulful song for the talent contest as well.
"I would probably sing a Boys II Men song … ," Williams said.
"'Back to One' is a classic — everyone knows that one," he said. "I've been singing since I was 6."
Philosophy major Judy Triana said if she entered the contest, her talent would be acting. She said she would either perform a dramatic monologue or a comedic skit.
"I'm a great liar," Triana said.
"I like the joy that [acting] brings to people, especially comedy … . You can [have] the worst day ever and it goes away once you watch your favorite show."
Cassimus said there are two ways to win the talent contest.
One grand prize winner will be selected by the panel of guest judges and the second grand prize will be awarded to the finalist who raises the most donations for the OCCC Foundation Scholarship Fund.
For more information about OCCC's Got Talent, contact Cassimus at 405-682-1611, ext. 7478, or visit www.occc.edu/talent.