OCCC hosts summer youth sports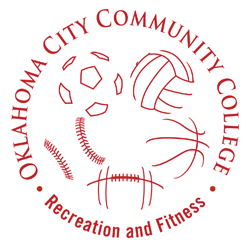 Each week throughout the summer, the OCCC Recreation and Fitness Center is hosting youth sports camps. Recently 45 children from ages 6 to 14 attended the boys basketball camp held at the OCCC gym.
Amy Nguyen, an employee of the Recreation and Fitness Center, was working with the players at the boys camp.
Nguyen said she helps lead the campers through drills and various games and activities.
"The kids are very fun, I enjoy coming in everyday to play with them," she said.
The campers spend a lot of time working on the fundamentals: running, free throws, teamwork and dribbling.
Tyree, 10, a camper Nguyen described as a star player, said his favorite drills at the basketball camp are shooting free throws and playing as a team.
"I'm very fast, I came in first place when we ran two laps and I started in fifth place," he said.
Tyree said his favorite OKC Thunder player is James Harden.
Another camper, Nathan, 7, said that team games were his favorite part of the week-long camp. Nathan eagerly said his favorite player was Kevin Durant of the Thunder.
Many of the campers were wearing Thunder shirts and jerseys the morning after the Oklahoma Thunder clinched the Western Conference Championship, securing their spot in the NBA Finals.
The purpose of these camps is to promote teamwork and making new friends for young athletes, said Eric Watson, Sports and Recreation specialist. He said the week of June 5 the college was hosting around 125 campers, including the sports camps and the Camp Teen Xtreme.
When asked how many children were in the basketball camp, Nguyen looked out over the noisy gym and replied with an exhausted look on her face, "a lot." Nguyen followed her response with a laugh.
Nguyen said the hardest part about keeping track of all those kids was getting them to listen and stay focused.
Future camps being hosted by the Recreation and Fitness Center include baseball, golf, swimming and soccer just to name a few.
Each week features a different sport. The camps run throughout the summer and cost $65 a week. A majority of the camps are being held on campus.
For more information about upcoming camps, visit the Recreation and Fitness Center's website at www.occc.edu/rf/index.html or call 405-682-7860.
To contact Mitchell Richards, email sportswriter@occc.edu.