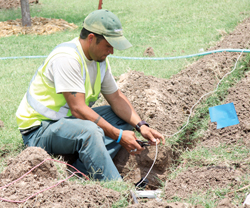 David Swinford, TruGreen employee, works on the electrical aspect of the irrigation system. Instillation of the irrigation system, which will water landscape, trees and sod on campus, was recently completed. (Jennifer Pearsall/Pioneer)
Just in time for near-100 degree heat, OCCC completed installation last week of a new irrigation system that is intended to bring more eye appeal to the campus, said Gary Phillips, Building and Campus Services supervisor.
Phillips said the irrigation system would water the landscape, trees and sod.10
He said the system, which is made up of underground tubing and sprinkler watering systems, would be set on a timer.
The cost of the irrigation system was $6,208, Phillips said.
He said the money for the system came from campus improvement funds.
David Swinford, TruGreen associate, said his company has been working on the new system for a little over three months.
"The irrigation system is designed to make the grass greener and the trees grow," Swinford said.
Phillips said the new system runs between Parking Lot C and Faculty Circle and between the Arts Festival Oklahoma site and Faculty Circle.
Students said they thought the irrigation system will be a good addition to campus and make the grounds look nicer.
Fraol Legesse, Upward Bound student, said he thought the irrigation system was a "pretty good idea, because it's helping out the college."
"If we need it, we need it," Barry Timberlake, OCCC student, said. "If we have enough money to spare."
Another student, Jeff Dicks, said greener foliage outside the college may affect a students' desire to attend OCCC.
"It draws attention to the campus and makes it look better than other campuses," Dicks said.
To contac Felicia Burkley, email onlineeditor@occc.edu.